Howard University Marching Band Escorts Kamala Harris To The White House
by Erica Gerald Mason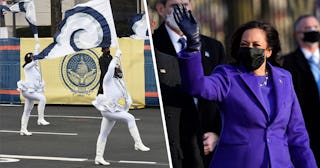 Stephanie Keith/Drew Angerer/Getty
Howard University is Vice President Kamala Harris' alma mater
Some news requires a parade. Thanksgiving. Christmas. Independence Day. Taking to the streets in joy marks the acknowledgement of both tradition and hope for tomorrow. The inauguration of President Biden counts, sure. But the inauguration of Vice President Kamala Harris requires a special parade. One from her alma mater, the historically Black college Howard University. In what can only be described as a joyous moment, the band accompanied (in every sense of the word) the new Vice President to her new office at the White House.
Of course, the Twitterverse lost their ever-loving collective mind because this is everything.
As users waited for the band to begin the escort, users could barely contain their excitement. Some posted throwback photos of the new Vice President.
Even the police officers seemed to be excited about HU's involvement.
This band though. HELL YES.
Ahead of inauguration day, Howard University posted a video about their involvement in the historic event.
Other Twitter users pointed out that Kamala Harris is also the first graduate of an historically Black college to be elected into such a high office.
CBS News ran a teaser for a story about Harris' time at the college.
There's a saying in the Black community: twice as good to go half as far. It means that for a Black woman to succeed, she needed to be twice as good as her white counterpart – but she'd only go half as far. The subtext, often repeated by well-meaning family members, was for us as Black women to persevere, and maybe someday, you'd get a tiny little corner of what you wanted.
That ended today. As Kamala took the oath of office, not only did she shatter more than one glass ceiling, she ripped up that 'twice as far' saying into tiny little shreds and threw an invisible parade for any little girl who wants to follow in her footsteps.
As she walked up those stairs, hand in hand with her husband, she put to bed the notion that women have to choose between a family and a career. That's a win, for sure.
When Harris linked arms with her step-daughter and held her niece's hand as the whole family walked toward her new office, she dispelled the notion that step-mothers have to be at odds with their new family. That's worth celebrating, too.
What is especially worth noting is how Kamala walked up those stairs. With all the pomp that goes with the office, she squared her shoulders, lifted her chin, and walked those stairs like a leader. She didn't look over her shoulder. She didn't need to.
She knows more will come after her.
Today, Kamala Harris is the first of many. But not the last.