Study Finds HPV Vaccine Reduces Cervical Cancer Rates By 87%
by Christina Marfice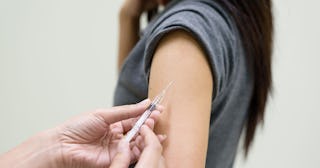 Komsan Loonprom/Shutterstock
The first generation of women who received the HPV vaccine had 87 percent fewer incidences of cervical cancer, U.K. researchers say
HPV vaccines have been recommended by the CDC for all young girls since 2006, but they're still new enough that science is gathering data on their real-world efficacy. That's why the results of a new study from the U.K. are definitely worth celebrating — researchers found that the first-generation vaccine reduced cervical cancer rates in women by 87 percent.
The study, which was published this week in the medical journal The Lancet, looked at the U.K.'s cancer registry data between June 2006 and June 2019 for seven groups of women, comparing those who had received the HPV vaccine with those who had not. Researchers found that the vaccinated population in the U.K. had 450 fewer cases of cervical cancer, and 17,200 fewer cases of pre-cancer than expected.
The groups included in the study were of different ages. In the vaccinated population, researchers looked at people who were vaccinated at age 12-13, at 14-6, and at 16-18. They found that people who were vaccinated younger saw better protection — those who got the shot between 14 and 16 saw 62 percent fewer cases of cervical cancer, while those who were vaccinated between 16 and 18 had 24 percent fewer cases.
What's even better news is that this study looked at the effects of the first HPV vaccine that was widely available, Cervarix, which only protected against two strains of the virus. The vaccine that's used widely today, Gardasil, protects against even more strains of HPV.
"This study provides the first direct evidence of the impact of the UK HPV vaccination campaign on cervical cancer incidence, showing a large reduction in cervical cancer rates in vaccinated cohorts," study co-author Dr. Kate Soldan said. "This represents an important step forwards in cervical cancer prevention. We hope that these new results encourage uptake as the success of the vaccination program relies not only on the efficacy of the vaccine but also the proportion of the population vaccinated."
Because cervical cancer is so rare in young women, it's still too soon to determine the full impact of widespread HPV vaccines. Researchers also expect cancer rates to plummet even more as better and more protective vaccines are developed — something we already saw in the switch from Cervarix to Gardasil.
Last year, the World Health Organization set a goal to eliminate cervical cancer around the world — the first ever global goal to eradicate a type of cancer. The organization set a target to vaccinate 90 percent of girls before they turn 15.