Viral Humans Of New York Post Reminds Us It's Never Too Late To Follow A Dream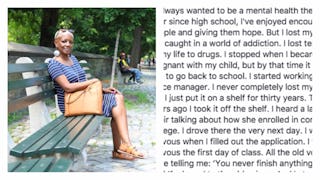 Image via Facebook
It took some time, but she never gave up
The Facebook page Humans of New York never disappoints when it comes to sharing moving stories about real people. Some have happy endings, others don't. While some are downright inspiring.
The latter is definitely the case with a recent post that's moved the internet to tears and is inspiring thousands with a message about how it's never too late to realize your dreams.
The subject of a July 6th HONY post is a middle-aged woman who, after falling on hard times, is closer to realizing her lifelong career goal than ever before. The comments on the post are full of people inspired by the woman's story and many who could relate to her long journey.
"I always wanted to be a mental health therapist," she says. "Ever since high school, I've enjoyed encouraging people and giving them hope."
She explains that drug use derailed her career plan — but a baby saved her from addiction. "I stopped when I became pregnant with my child, but by that time it was too late to go back to school."
Or so she thought.
In order to support her child, the woman took a job as an office manager and felt that it was too late at that point to go back to school. Still, she held out hope. "I never completely lost my dream. But I just put it on a shelf for thirty years."
Five years ago, she took that dream "off the shelf" after hearing of a woman in her choir enrolling in community college. She didn't waste any time. "I drove there the very next day."
From there began a journey that required a lot of faith in herself and strength in the belief that she had what it took to become what she always wanted to be. "I was so nervous when I filled out the application. I was so nervous the first day of class. All the old voices were telling me: 'You never finish anything.' But I said 'fuck you' to the old voices. And I started getting A's."
Anyone else have chills right now, or just us?
After receiving a perfect score on her first test, the only one in the class to do so, she was on her way. She graduated at the age of 50 and earned her Masters degree at 55. But she's not done.
"And just last night I completed a mental health first aid course. I'm so close now."
She says, "There's still fear there. I used to be afraid of it never happening. Now I'm afraid of it happening."
What an incredibly powerful admission. So many times when a person is close to realizing a long-held dream it almost becomes too overwhelming to envision it finally being within their grasp. They wonder if they might fail in the end or worry the reality might not come close to the dream. It's also when doubt creeps in, sometimes, doubts that are put there by people in your life who are only holding you back from success.
But she's not letting those thoughts, or those people, get in her way now. She's too close. And she's not stopping.
"The old voices try to come back sometimes. They tell me: 'You can rest,' or 'You've earned a break.' But I'm not stopping this time. Somebody out there is waiting for me to finish because they need my help."