15 Dead In Canadian Junior Hockey Team Bus Crash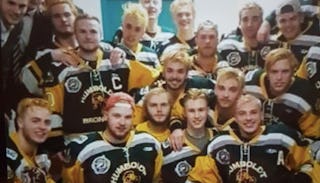 Image via GoFundMe
Victims include several hockey players, some only in their teens
Last Friday, a horrific accident took the lives of 15 people, including several young hockey players. A Canadian junior hockey team's bus collided with a tractor-trailer in Saskatchewan. The team, their coaches, and support staff were traveling to a playoff game in Nipawin when the crash happened.
The Washington Post reports that the Humboldt Broncos junior hockey league team suffered the unimaginable loss of many of their players along with coaches, the bus driver, the team statistician, and a radio announcer. The organization's president, Kevin Garinger, called it "an incomprehensible situation."
Bill Chow, the president of the Saskatchewan Junior Hockey League, spoke to reporters on Saturday. He stopped mid-sentence as he began to cry. "I don't have a lot to say other than… other than the worst nightmare has happened."
Of the 24 players listed on the Broncos roster, ten are confirmed dead. The New York Times reports that players Adam Herold, 16; Conner Lukan, 21; Evan Thomas, 18; Jacob Leicht, 19; Jaxon Joseph, 20; Logan Boulet, 21; Logan Hunter, 18; Logan Schatz, 20; Stephen Wack, 21; and Parker Tobin, 18, are all among the deceased. Other who lost their lives include 18-year-old Brady Hintz, the team's statistician, head coach Darcy Haugan, 42; team bus driver Glen Doerksen, 59; assistant coach Mark Cross, 27; and play-by-play radio announcer Tyler Bieber, 29.
As the names of those lost were released, family, friends, and locals took to social media to share remembrances of those lost.
As word of the terrible tragedy spread on Friday, members of the Humboldt community gathered at the team's home rink to await news and be together. Humboldt Mayor Rob Muench told the Saskatoon Star Phoenix, "There's people, just sitting in the stands, stunned. They didn't know what to do. It's a tragedy not only for Humboldt, but for hockey all over [Canada]. A number of the players were from communities in surrounding provinces and across the country. It is a very, very hard thing to take."
Another heart-wrenching detail is the mistaken identities of two victims, which left one family finding out that their son was alive when they'd previously been told otherwise and another discovering the tragic opposite.
"This tragedy has hit a number of people — not just us but I think everybody can relate to this experience," Muench said. "Throughout Canada, we see teams going out into the Canadian winters on buses all the time. It's always a thought [in your mind] about what could happen. Unfortunately, this happened here in Humboldt. There is no playbook on what to do in cases like this."
Billet parents Rene and Devin Cannon, who housed three of the players lost in the crash, grieved the loss of the young men they allowed to stay with them during the season. They looked at these boys as their own sons. It's absolutely heartbreaking.
For now, the team and their community will remember those lost and support the injured. A GoFundMe has been established with all funds going to families of those deceased or injured. It's still accepting donations as of this time.
This article was originally published on