Hundreds Of Migrant Parents May Have Been Deported Without Their Kids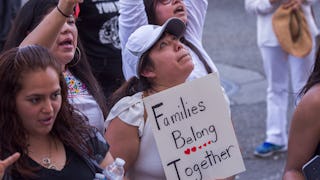 Image via David McNew/Getty Images
The Trump administration says nearly 500 parents of migrant children may have been deported while their kids were still detained
The child separation policy nightmare is still ongoing for so many families. In a court filing Monday, the Trump administration admitted that 463 parents of migrant children detained in the U.S. are no longer in the country. That means the numbers of parents deported without their children could be far, far larger than anyone had previously thought.
Those numbers come from a "progress report" submitted to U.S. District Judge Dana M. Sabraw, who gave the administration a 30-day deadline to reunite as many separated families as possible. That deadline expires Thursday, and so far, less than 1,000 families have been reunited. More than 2,500 families were separated at the border before Trump ended his "zero-tolerance" policy that separated children from their parents, even if they were asylum seekers legally entering the U.S. to ask for a safe haven from violence in their own countries.
The progress report does say those numbers are "under review," but that sounds like the administration might be trying to save face. The administration only offered this information after Judge Sabraw ordered it to clarify how many of the parents of migrant kids detained in the U.S. were no longer in the country. Thankfully, he also temporarily suspended deportation of the families who are being reunited.
But there's no ignoring this news. If nearly 500 parents were deported without their kids, that's basically 20 percent of the families that were separated who now face extremely challenging odds that they'll ever be reunited. Tracking down 463 parents in Latin America is going to be costly and time consuming. Meanwhile, all those kids will have to stay here without their parents. And we've already seen the damage that even a short separation can inflict on a young child.
Stephen Kang, an attorney for the ACLU, one of the plaintiffs in the case, said he was shocked by how large the number of deported parents actually is.
"If this number turns out to be as large as the report suggests, this is going to be a big issue for us," he said. "We have a lot of questions."
Kang added, "We have concerns about misinformation given to these parents about their rights to fight deportation without their children." The administration insists migrant parents were informed of their rights in their native languages, and that they gave written consent to be deported without their kids. Yeah, OK, why do we find that one hard to believe?
Even though it's been more than a month since Trump signed the executive order to end the child separation policy (which he implemented in the first place), it's clear the battle to undo the damage it caused is only just beginning.