Target's Collab With Hunter Means Super Cute Rain Boots At A Much Lower Price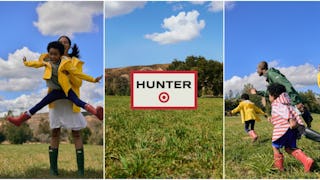 Image via Target
Get ready to spend all your money on another amazing Target designer line
Every time Target announces a new design collab, we can't help but get excited for what's to come. Target collabs are known for taking high-quality, expensive designs and making accessible, affordable versions that are just as stylish as the originals. Plus, they seem to always be very on trend. Lisa Frank? Chip and Joanna Gaines? Those were Target collabs that produced items we had to have.
The newest line is just as exciting.
The next Target design line you're going to have to get your hands on comes from a partnership with Hunter. Yes, the same Hunter that makes super-cute Wellington rain boots you have to shell out $150 for. Want to guess how much those boots are going to cost at Target? $45.
Go ahead if you need to take a moment to calm down. We're all excited.
The spring line will include a total of over 300 items, including boots in tons of colors and patterns, raincoats, backpacks and more. Prices will range from $5 to $80, but the majority of items will come in under $30, making the new line super affordable. Apparel and accessories will be for women, men, girls, boys, and toddlers, and everything is designed to be worn and used in all weather, so bring on those spring showers. And there will even be home goods, something Hunter has never sold before. Shut up and take our money, Target.
"Hunter has long been regarded for its impeccable design aesthetic, rich heritage, and playful spirit, and based on our research, it's a brand our guests know and love. So a pairing between our two brands made perfect sense," Target's chief merchandising officer, Mark Tritton, said in a press release. "From the very beginning, we worked with Hunter to develop a well-designed, affordable collection that's all about fun, optimism, and accessible adventure for the entire family. The colorful, all-weather pieces found in this line are made for enjoying the outdoors — rain or shine — on any budget."
This collection will also differ from previously released Target collabs in a few different ways. Normally, new lines are released on Sundays, but the Hunter line will hit stores and Target.com on Saturday, April 14, giving you the entire weekend to shop.
And, for the first time, Redcard holders will be able to pick up exclusive colors and patterns for select items that won't be available to the general public. We always knew being obsessive Target shoppers would pay off someday. That day has finally come.
This article was originally published on