Newborn Hurricane Survivor Gets Photo Shoot On Boat That Rescued Her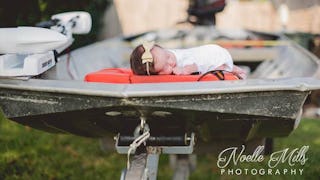 Image via Noelle Mills Photography
Her photos are serving as a symbol of hope after Hurricane Harvey
When Levi and Emily Chimeno named their new baby girl Hope they couldn't have known she would give exactly that to so many after Hurricane Harvey ravaged the Texas coast. The storm caused widespread flooding that left many residents fleeing their homes, including the Chimeno family.
They got out by way of a boat bound for Lake Charles, Louisiana. And it was on that boat that Hope ended up having her first formal photos taken. They've since gone viral because obviously, America needs a little "Hope" right now.
According to Today, Hope was just 10 days old when her family evacuated their hometown of Orange, Texas courtesy of rescuers Cris and Clint Sanford of the Cajun Navy. After Levi, Emily, and their three kids arrived in Lake Charles, Cris' wife Katy asked the parents if they'd had Hope's newborn photos yet. Of course, with Harvey rolling in so shortly after the infant's birth, it wasn't something they'd gotten around to yet.
So Katy decided to fix it.
She called on family friend and photographer Noelle Mills to do the honors. She has two kids herself and a busy job in PR, but wanted to do something kind for the Chimeno family after what they'd been through. "She is my dear friend," Mills tells Scary Mommy. "She contacted me about donating the session for this family. I immediately said yes."
And we're so glad she did.
The photos were taken on the exact rescue boat that brought the Chimeno family to safety. A few life vests were used as props, but the rest was all sweet Hope. Mills tells Today the infant was "an angel" for the duration of the photo session, having done many shoots with babies who weren't as patient. "Here she was, outside, in a onesie, on a metal boat, in a life jacket, and she was wonderful. It was an extra treat," she shares.
Along with Hope's first formal pictures, Mills also took photos of the whole Chimeno family.
Mills says Hope's name is fitting considering what her presence meant for her family in the wake of Hurricane Harvey. "It's because of her that they were able to get on this boat and into a volunteer's home. … She's been their little rock star," she says.
"She has brought so much hope."