Viral Video Shows Where Hurricane Irma Literally Dried Up The Ocean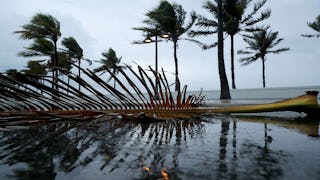 Image via Chip Somodevilla/Getty Images
A Twitter video shows the ocean post-Irma without any water in it
Everyone is bracing for the worst with Hurricane Irma, and if we've learned anything from recent storms like Harvey, it's that they can impact the affected areas in unpredictable ways.
Already, Irma is doing things we've rarely seen in action.
On Saturday afternoon, a Twitter user shared a video of the ocean on Long Island in the Bahamas. Except in the video, the ocean is missing. Irma has sucked it up and taken it with her.
In the video, the ocean floor is completely dry, and visible for a quite a while, astonishing the woman doing the filming.
"I am in disbelief right now…" Twitter user @Kaydi_K wrote. "This is Long Island, Bahamas and the ocean water is missing!!!"
Angela Fritz, an atmospheric scientist and the Washington Post's deputy weather editor, explained what happened.
"Basically, Hurricane Irma is so strong and its pressure is so low, it's sucking water from its surroundings into the core of the storm," she writes.
"The ocean may be experiencing the effects of what I call the hurricane 'bulge,'" she writes. "In the center of the storm, where there is extreme low pressure, water is drawn upward."
Basically, in the case of Irma, the power and the pressure have combined in such a way that the "bulge" effect is sucking the Atlantic ocean into its vortex.
Fritz reassures readers that the water will return, and not in any dangerous fashion, stating that the storm is not a "tsunami" and by Sunday afternoon or so, the ocean should be back to normal.
The internet has been abuzz for days as people brace for Irma. Hundreds of thousands of people have been evacuating to safety as the storm approached the Florida.
Many people have been doing their best to help others as the storm approached, like a dedicated fertility doctor in Miami, and actress Kristin Bell, who rescued her Frozen co-star's family from the storm's path.
Everyone is bracing for the worst and hoping for the best, but it's probably safe to assume no one was expecting to see a dried-up ocean in the wake of the storm.