7 Storm Systems Being Watched As Hurricane Season 'Peak' Hits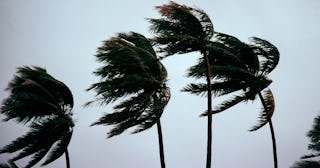 Carl & Ann Purcell/Getty
September 10 is the peak of hurricane season, here's what that means for today
The western United States is engulfed in flames and now the Southeast is heading into the worst part of hurricane season. What a year. Statistically, September 10 every year sees peak hurricane activity in the Northern Atlantic Ocean and forecasters are currently eyeing seven different seven systems in the Atlantic basin.
September 10th is a significant date on the meteorological calendar as it's when it's most likely there's a tropical storm or hurricane brewing. "(September 10th is) just a day more likely that there is something out there anywhere," Spectrum News Chief Meteorologist Mike Clay said. "It doesn't mean it is the most intense or the biggest threat or anything like that." According to the National Hurricane Center and meteorologists at local NBC affiliate WESH 2, there are seven systems currently being monitored, so this year's September 10th forecast is proving to hold true to previous years patterns. The good news is that the Atlantic Ocean is huge and many of these tropical storms won't significantly impact us stateside.
Per WESH 2, a new disturbance a couple hundred miles northeast of the Bahamas has a 30% chance of developing into a depression or storm over the next five days and could impact Florida, likely increasing humidity and rainfall in the area. Another area of low pressure is causing some shower and thunderstorm activity off the coast of North Carolina and is forecasted to move inland, though it shouldn't cause significant disturbances.
There are a couple named storms and disturbances out in the ocean that will likely avoid the U.S. or any landfall, but Tropical Storm Paulette formed Monday, as did Tropical Storm Rene. Both should avoid landfall before eventually turning Northwest. Another area of low pressure developed over the northeastern Gulf of Mexico but is expected to stay in the Gulf. There's also a system moving off the coast of Africa in the coming days and a tropical depression is likely to form.
Though the states are likely "safe" from any major storm activity — it's a lot of activity in the Atlantic. Philip Klotzbach, a meteorologist at Colorado State University who specializes in Atlantic basin seasonal hurricane forecasts tweeted that Tropical Storm Paulette and Rene would be the 6th & 7th hurricanes of the 2020 Atlantic hurricane season and there have only been three other years since 1966 where we've seen seven or more hurricanes before September 14. Those years were 1995, 2005, 2012, and now potentially 2020. Hurricane season is expected to slow down until it runs its course around November 1.
Climate change is real.
This article was originally published on