This 'Instagram Husband' Shows Us What Real Love Looks Like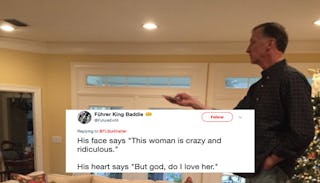 Image via Twitter/Taylor Burkhalter
Sometimes love means recording your wife doing snow angels in the living room
We all know those husbands who will do anything for the ones they love. They are thoughtful, patient, loving, and will participate in just about anything to keep a smile on their partner's face. Even if that means moving a living room full of furniture on Christmas Eve so their wife can make snow angels in the middle of the floor.
Yep, you read that right. Pictures emerged on Twitter from their son, Taylor Burkhalter, of his dad tending to one of his wife's whims – the making of a snow angel video for her Instagram page. And the look on his face says it all.
"I've learned more about love from watching my dad reluctantly rearrange the living room so my mom can make snow angel boomerangs for her 29 Instagram followers than anything else in life," Taylor captioned his tweets.
He then shared a series of pictures of his dad, Steve, standing on top their rearranged living room table to get the perfect snow angel angle. It's unclear if the "snow" was their actual rug or if he also moved in a snow-colored shag for the event, but regardless, he stood patiently recording her so her "29" followers could wake up to the glory of all that is this video.
The results really speak for themselves. And so does Libby's now-rising follower count. Spoiler alert: it's way higher than 29 now.
It's clear by her caption that Libby is one of the happiest people on the planet and you cannot watch this video without smiling. Seriously, it's not possible. "Make your own snow in Louisiana," she wrote on Instagram. "#merrychristmas #snowangel #falalalala #libbfit #retrosweatshirt #familyfun #joytotheworld."
We could all use a little Libby and Steve in our lives, and it seems Twitter agrees:
https://twitter.com/jetpack/status/945185429908852737https://twitter.com/jetpack/status/945314608130162689https://twitter.com/jetpack/status/945357315254968320https://twitter.com/jetpack/status/945237800831524864
According to her website, Libby is a fitness instructor and coach living in Louisiana and she has a passion for "faith, food and fitness." She is also mom to son Taylor (who we will forever be grateful captured the snow angel in the making) and daughter, Lauren. She has also been "happily married to Steve" for 32 years.
It's clear by his face in those pictures this this isn't his first rodeo and he knows better than to argue when Libby gets her mind set on something. This man has the patience of a damn saint.
Can we say a collective, "awwwwwwww."