Man Surprises His Wife With The Ring He Couldn't Afford When They Wed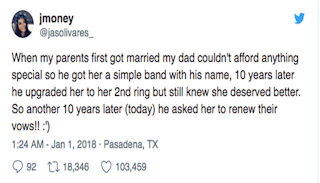 Image via Twitter/Jasmine Olivares
The couple will celebrate their long-lasting love with a vow renewal
A Texas couple is becoming internet famous after their daughter shared a series of photos showing the evolution of their wedding rings over two decades.
"When my parents first got married my dad couldn't afford anything special so he got her a simple band with his name," Jasmine tweeted alongside photos of the couple's rings over the years.
While her mom loved the first ring, after 10 years together, her dad wanted to celebrate his high school sweetheart turned wife with something special.
"10 years later he upgraded her to her second ring but still knew she deserved better," Jasmine wrote. The second ring had several small diamonds in a row, which you can see in the photo Jasmine shared. Some couples like to get new rings to celebrate all the hard work they've put into their marriage and others like to wear their original because it reminds them of all that hard work. And some couples don't wear rings at all. It's your relationship, and you should celebrate it in whatever way you want.
For Jasmine's dad, that meant asking his beautiful bride to renew their vows with a third ring 20 years after they said "I do." How adorable is that? Very. Jasmine tells Scary Mommy, "My mom was definitely surprised! My dad has had the ring since August and waited for the perfect time to do it, so he waited until we were around our whole family to do so! And she loved it!"
He proposed to his wife all over again on New Year's Eve and the internet is losing it over this couple's cuteness.
https://twitter.com/jetpack/status/948265731719860226
https://twitter.com/jetpack/status/948019828572479488
"I shared this to show that it's not about the ring, it's the man, and because my parents are goals," Jasmine tells us. "Hopefully it inspires other young, high school sweethearts to believe, to always work on their relationship, and to be honest, and hopefully someday they too can have 20 years under their belt."
Congratulations, Jasmine's parents! Cheers to another 20 years.
This article was originally published on