Wife Of Las Vegas Massacre Victim: 'He Saved My Life And Lost His'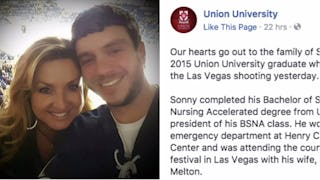 Image via Facebook/Union University
"He grabbed me and started running"
A husband saved his wife's life moments before he was killed during the massacre in Las Vegas Sunday night. At least 58 people were killed and 527 were injured when 64-year-old Stephen Paddock opened fire on a crowd of 22,000 who were attending a concert outside the Mandalay Bay Resort and Casino.
Sonny Melton was at the Route 91 Harvest Festival with his wife, Dr. Heather Gulish Melton, when the shooting happened. "He grabbed me and started running when I felt him get shot in the back," his wife told radio station WZTV. "I want everyone to know what a kind-hearted, loving man he was, but at this point, I can barely breathe."
Surviving a mass shooting is a traumatic experience but losing your spouse moments after they saved your life is simply unimaginable.
The couple was in town for the country music festival from Big Sandy, Tennessee. Melton was a registered nurse and worked with his wife, a surgeon, at Henry County Medical Center. "The thoughts and prayers of the entire HCMC family are with Sonny and Heather's families," HCMC CEO Thomas Gee said in a statement. Former nursing director Trisha Ross told The Jackson Sun: "He was a kind, compassionate nurse who lived life to the fullest. He took great care of his patients."
Friends, family members, and former teachers spoke out about what a positive, kind person Melton was his whole life. "You know how when you met someone and you just know that they're good and kind? That was Sonny," said Christy Davis, who is an assistant professor of nursing at Union University in Jackson, where Melton graduated from in 2015. "He just had a sweet, kind spirit about him," she added. Melton's uncle spoke about his nephew at a prayer vigil on Monday. "He was a great young man," Kelley Brewer said. "You never understand when things like this happen."
No, we don't understand. We don't understand why a wife now has to live without her beloved husband and why the families of 58 other innocent people will be telling similar stories over the next few days. It's an unimaginable horror that's become our country's sad reality. But it's stories of people like Sonny that give us hope — that most human beings are good, and there's more good than bad.
His wife shared a few heartbreaking thoughts about losing her best friend and partner. "At this point, I'm in complete disbelief and despair," she explained. "I don't know what to say. Sonny was the most kind-hearted, loving man I have ever met. He saved my life and lost his."
This article was originally published on