I Made My Husband Take An Unpaid Paternity Leave, And This Is Why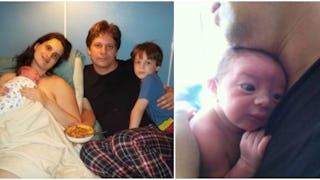 Wendy Wisner
My postpartum experience after my first son was born turned out to be one of the toughest times in my life. I had breastfeeding struggles that left me in a heap of tears for weeks; extreme sleep deprivation; and a bad case of undiagnosed postpartum anxiety. I felt generally depleted—like I'd been run over by a truck and punched in the face repeatedly.
When I got pregnant with my second baby, I decided then and there that the next time would be different. I knew there was no getting around the fact that postpartum would be hard, but I would do what I could to prepare. Rule #1 was that I would severely limit visitors (I felt like I was playing hostess the first time). I would prepare a million meals in advance and ask anyone who came over to bring food.
Yup, I was planning a "postpartum babymoon" of sorts. I planned to do nothing but rest, recover, and nurse for a week or two. I'd read that it takes at least a year for the body to recover from childbirth— and those first few weeks are crucial to get the process started. My gut told me that resting for a few weeks would help ward off some of my anxiety and depression, help my uterus and organs get back into place, level out my hormones, and get nursing on track.
And with a busy home life and a five-year-old to care for at the same time, I knew that meant my husband would need to be around to help. We were broke AF, so hiring help wasn't an option. At the time, all of the grandparents worked full-time so that wasn't an option either. And frankly, as much as I loved them all, I knew that what I needed most to pull of my babymoon was my husband's presence and care.
So I told him that he needed to clear his schedule for 2 weeks after the baby was born. At first, my husband backed away from the idea. It was a really tough time for our family financially. My husband had lost his job that year, and was working part-time and by the hour at several different jobs. Taking time off would mean zero pay, which wasn't going to help our overall financial picture.
But sometimes you make the sacrifice, and blow the money to save your sanity. Maybe it was just my raging hormones, but I would not take no for an answer from my husband. I know that we were making an investment not just in my mental and physical health, but in the future of our family.
So, we swallowed the loss of income (pro-tip: we asked close family who wanted to give us a baby gift to just give cash instead!). And let me tell you: I have zero regrets. It was the best thing ever. I stayed in bed for two weeks, and we all transitioned to being a family of four more easily than I could have imagined.
Most importantly, I didn't experience any mental health problems that time, breastfeeding came much more easily, and although I was exhausted, it wasn't that dizzying, who-sucked-the-life-out-of-me type of exhaustion I'd experienced the first time. Interestingly, my postpartum bleeding was also two weeks shorter than it had been the first time.
Listen, I know—I know—that this set up is not for everyone. Not everyone even wants to take a full blown "postpartum babymoon" like I did. Others don't want their partners around as much as I did (or don't have a partner in the picture to begin with). And many would be fine with other kinds of help postpartum. And of course, if you are in an even more dire financial situation than I was, this isn't even an option.
For me, the experience pointed out more than ever why we desperately need not only maternity leave in our country, but also paternity leave. Why on earth should it be such a freaking complicated and stressful thing for a family to decide that both partners need to be home for some time after a new baby enters the picture?
In other countries, men don't just get a few days or even a few weeks off—they get months off. Yes, for real (Sweden and Iceland are some countries that offer extended paternity leave options). And not only is this good for the mom and kiddos, but it's vital for dads, too.
How can we expect dads to understand how freaking consuming and intense parenting babies is if they aren't around in those crucial first months? And what about falling in love with their babies, keeping their marriages intact—and OMG, getting a chance to rest themselves (preferably with a little babe on their chest)?
We need to a better job at all of this, America. But until maternity and paternity leave for everyone becomes a reality, I'm here to tell you that there are options out there to consider—and if at all possible, sometimes putting your family and health first is a financial sacrifice worth making.
This article was originally published on