Husband's Note To His Wife Is All Any Stay-At-Home Mom Wants To Hear
by Valerie Williams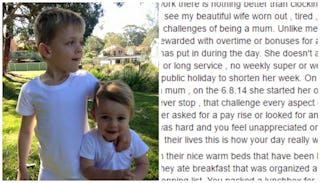 Image via Facebook
Husband's note to his wife goes viral for all the right reasons
Whether they work or stay home with the kids, every mom wants to know she's appreciated. That's why this husband's heartfelt letter to his wife is going viral. He gives all the reasons why she's an incredible mom, and it's what all of us need to hear.
Australian dad Scott Douglas wrote a sweet note to his wife Kate that she shared with blogger Constance Hall. Hall posted it to her page, where it quickly went viral. In it, Douglas praises his wife and shows his appreciation for all the little things she does that she probably doesn't realize he even noticed.
Kate got the note from her husband after a particularly hard day with their two young boys. It was so tough she had to leave for a few hours once Douglas got home to decompress. When she came home, she saw his words. He writes, "After a hard day at work, there is nothing better than clocking off. Some days I get home and see my beautiful wife worn out, tired, frustrated and overwhelmed by the challenges of being a mum."
He notes that her life as stay-at-home mom means she isn't afforded the same privileges he is, like getting to clock out at some point, overtime pay or bonuses for her hard work. Using their kids' birthdays as her "start date," he says, "On the 3/5/11 she clocked onto being a mum, on the 6/8/14, she started her overtime shift. Two boys, two boys that never stop, that challenge every aspect of being a mother, she has never asked for a pay rise or looked for another job."
Douglas says that despite her hard day, she still made a difference on their children's lives in so many ways. He writes that their kids woke in warm, clean beds because of her. They ate breakfast, "organized a week ago" when she made the shopping list. Their older son had a lunch packed for daycare that she worried over being healthy and filling enough, all while managing their toddler.
He points out that she took an hour settling their son into daycare because he was upset, reassuring him that his mom would always be there. She then went home and spent the day patiently caring for their toddler, helping him potty train, hold conversations and take a nap. But Douglas knows she didn't use that precious nap time to rest herself, because she had housework to do.
Then, comes daycare pickup and doctor's visits. Feeding them dinner and getting her "first adult chat" of the day, the whole time, "still being a mum."
Sounds about right, doesn't it? So many wonder how a stay-at-home parent spends the day, and Douglas pretty much nailed it. Thankless work that you might think no one notices. Going through the motions and hoping you're doing it all right. Sometimes thinking that your spouse has no idea the sacrifices you make and the struggles you face each day in the tedium of raising small children who aren't always capable of expressing their gratitude.
That's why Douglas' note has gone viral. Because this is literally what every stay-at-home mom wants to hear from their partner. That all those little things they do are actually quite big, and matter to the whole family.
He closes saying, "So when you see a bad day, I see an amazing women who never calls in sick, never quits, never turns her back on the hard days and who has the power to go to bed knowing it will happen all again tomorrow. You are an amazing and fabulous mother. Even though it doesn't seem like it, you are the greatest thing in these boys lives and we love you, for everything you do."
In the end, simply acknowledging all she does was enough to make Kate feel good about her parenting. Kudos to her husband for realizing that and making sure he let her know. It's a lesson every partner should learn.
H/T Babble
[free_ebook]