I Don't Love Motherhood, But I Do Love My Kids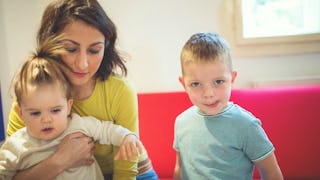 miodrag ignjatovic / Getty
Somewhere along the way, someone told us that because we are women and we are physically capable, we are supposed to have children. We are supposed to feel fulfilled and complete once we become mothers, because it's our purpose. It's what we're made for.
But what if it's not?
Since having my first daughter nearly three years ago, I have struggled every single day to maintain a positive demeanor when it comes to my job as a mother.
I wasn't made for this.
This wasn't the life I envisioned for myself.
Being a mom, to me, is all-consuming. For now at least, while my kids are little.
When I'm with them, I am 100% with them. I am 100% on, aware, and present. It is imperative to me that when I'm around them, I am fully there, that they feel valued and loved and well cared for.
This means my laptop is closed, sometimes for a days at a time. It means that my phone sits up on the kitchen counter or in the diaper bag, and sometimes doesn't get touched until bedtime. It means that orders and e-mails and messages might come in, and I will miss them. It means that there might be business collaborations and opportunities that I will miss out on.
Is that how I want things to be? No.
But they are, by choice.
Because that image of a mom distracted by work with her children in tow is my worst fear. She is the epitome of someone I never want to be.
Yet at the same time, in some ways, I am dying to be her.
Most people who know this about me don't understand what it feels like or what it means to be a mom who didn't want kids. Probably because most women who have kids wanted to have kids, or suddenly fell in love with being a mom once their babies arrived.
I constantly hear other moms talking about their children as though they waited their whole lives for them. As though their kids were their ultimate goal in life. They say things like, "my kids are my world" and "I can't imagine life without them."
I think it's wonderful, and it must feel so incredible to be living your dream every day in that way.
But that's not how I feel. And it's hard for me to admit outwardly, because my feelings are not ordinary. They are not common. And therefore, they are not relatable, acceptable, and sometimes considered offensive.
Deep inside my bones, I feel as though these hands were made to build and to create and to write. My soul was created to inspire passion and love and courage in others.
My heart beats for my purpose, for doing what I was created to do.
And at certain points in my journey, I have felt as though my children were merely just coming along for the ride.
But the beauty of my story, despite how ugly and raw it may appear to be on the surface, is that it's actually full of hope and positivity.
Despite my internal struggles, the truth is, I found myself BECAUSE of my kids.
I am on a journey of self-discovery and self-improvement because of THEM.
Being their mother has given me confidence to be honest and real.
Being their mother has given me the courage to pursue my passions. To take risks. To show up, and truly own who I am.
Being their mother has given me the desire to learn, grow, and evolve.
Being their mother has inspired me to work on myself, to become better.
While digging deep inside myself, looking for the hope and strength I desperately needed to make my way through motherhood, I found myself. I was buried beneath the vision of who I thought I wanted or was supposed to be.
I don't love being a mom.
But I love my kids with every fiber of my being, and I am grateful for them. I wouldn't be who I am, or where I am at this moment, had it not been for them. They are more important to me than anything in this world, and I will keep working hard so that they never, ever have to question that.
This article was originally published on