Dear Beau: You Are So Loved, And I Want The World To Know About You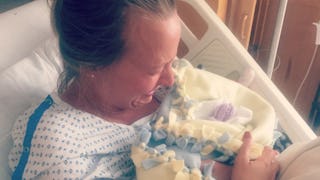 Lauren Littlefield
Dear Beau,
Today is the day that you were supposed to be born. But you won't be. Because you already were.
Let me start at the beginning. About nine months ago, I was getting ready for a work dinner in a midtown hotel room in New York City, I decided to take a pregnancy test  —  just in case . Forced networking is so much easier with a couple of glasses of wine. Eek, positive? Awkward small talk, here I come.
Some people might have been totally stressed out to learn they were expecting again when they already had an 11-month-old at home as well as another who was not even 2 1/2 (I know this because I had several people ask me if it was an accident!). But from the minute I took the test in that hotel room, I felt nothing but joy about you. Joy for the three musketeers you, Beatrice, and Deacon would be. Joy for how easily your father, Chas, and I were able to create you (or so I thought at the time). And joy to make Deacon your big brother and to see Bea continue to blossom in her big-sisterdom.
I felt nothing but joy — and in a way that I hadn't in my previous pregnancies.
When I found out I was pregnant with your sister, it was more like "Holy shit, I'm gonna have a baby?! This is going to be awesome… Right?!" shock and wonder. With Deacon, it was more like "Can I do this again? Why did we do this so fast? Oh man, Beatrice is not going to be happy" panic and worry. But with the knowledge of how deep my love is for your brother and sister (and how awesome things really turned out) and the belief in myself to be able to nurture more than one (and more than two!), this time felt different. It really felt like it was meant to be  —  our opportunity to add more love our little family.
Over the next four months, I thought a lot about both what you would be like and what our family would be like with you in it. I dreamed of you having my green eyes (which neither of your siblings do). I dreamed of you having Beatrice's hard-headedness with Deacon's snuggly-ness. I dreamed of you being the first of my kids to master sleeping through the night so I wouldn't have to strap you into a Magic Sleepsuit to save my sanity.
I dreamed of bundling you up in the camo Patagonia bunting we bought you to go for winter walks to town and holding you on my lap while reading to you and sipping coffee as we waited for it to be warm enough to finally take you outside (ugh, New York…probably, like, sometime next year in April).
I dreamed of taking you to college  —  the last one to leave  —  and even seeing you cry a little bit when you saw what a slobbery mess of tears I was. I dreamed of having Deacon and Beatrice come to meet you in the hospital ; we'd been teaching Deacon to kiss,  so I dreamed of him putting a big slobbery one on your round cheek, just like Beatrice did to him (right before turning the other way and asking for my sandwich; your sister likes to eat).
I dreamed of you and your brother wrestling, of being almost the same size, of playing on the same lacrosse team. I dreamed of you guys being bossed around on vacations by your (only a little bit) older and (thinking she's so much) wiser big sister   before I whisked her off to get a manicure and left your dad to clean up after your food fight.
For those four months, even though you didn't occupy our world in the same (loud/messy/clumsy!) way as your brother and sister, you were always with me and my heart with you. I loved you more and more each and every day  —  especially after week 11 or so when I stopped feeling so sick. Mother's Day was one of the best of those days  —  picnicking and playing in the park with Bea and Deacon — and I really felt your presence. Our family of five felt complete as the two of them piled on top of you, on top of me, laughing. I will always remember that day and specifically that moment because it was one of the last before I had to say goodbye to you.
On Monday morning, Dad and I brought Bea to the doctor's office with us . They were going to show us a picture of you, so she could find out if we were having a boy or a girl. We already knew you were a boy, but we thought it would be fun to keep her guessing, since the baby in Mom's belly was one of her favorite topics. It started out fun : We talked to Bea about your heartbeat and how it was just like hers, and it was.  Your heart , the beating rhythm and the love I know it had within it , was absolutely perfect.
It turns out, however, that some parts of you were not as perfect. Your legs and arms were teeny-tiny, much tinier than they should be for a baby at 20 weeks. Even worse, your teeny-tiny rib cage was also too teeny-tiny , so much so that there was no room for your lungs to grow  —  the lungs that you would need to bring you air once it was time for you to be born.
The doctor didn't know exactly what to label what was wrong with you, but she knew that it would make it impossible for you to come into the world and come home to be a part of our family. We now know that you had a disease that made your bones very fragile ; they had already started to break each time you moved inside my belly, which is why they weren't growing properly. This means that you would've continued to hurt had you grown longer inside of me and would've hurt even more during your very short time on earth.
Saying goodbye to you was the hardest thing I have ever done in my entire life. I wish I had felt you kick more before I had to let you go .  I only felt you three times, and your dad, not at all. I wish I had spent more time being still, just talking to you, and telling you these things I have written here, so you'd know. I worry a lot that you will never know. I wish I could've done something, back in that moment when you were made, to fix the part of you that was broken ,  to give you a shot at the life you deserved.
***
First and foremost, this is a story about how on May 16, 2017, I lost my second son. After receiving a totally unexpected and horrifying diagnosis that was "not compatible with life" and "100% fatal," we chose to end our child's pain and let him go before we were ready. I gave birth to him at White Plains Hospital at 8 a.m. in the morning after about 12 hours of labor.
He did not have his perfect heartbeat anymore, so he must have passed away at some point during delivery. They wrapped him up in a blanket and a hat and let me hold him as long as I wanted to. I am not sure how long it was for, but I will treasure those minutes forever and ever. Even as small as he was, what I noticed is that he had the same nose as Deacon. The chaplain came in and blessed him with holy oil and we named him Maxwell Beau Littlefield. On the same day he was born, I kissed him goodbye, and several hours later, they wheeled me out of the hospital to go home  —  without my precious Beau.
This is also a story about sticking up for yourself . I had a doctor use "alternative facts" to try to talk me into a D&E, when she knew how badly I wanted to give birth to my baby . This was the same doctor who called Chas without my permission to try to get him to change my mind because it was going to be "too hard on [Chas]." I had another doctor recommend the wrong postmortem genetic testing. Had I listened to either one of them, I would never have held my beautiful baby in my arms nor would I have ever had answers to what made him so sick.
Speaking of answers, this is a story about science  —  really really really amazing science. About six weeks after Beau died, we received a call from the genetic lab that was helping us figure out what happened to him. They had located the specific mutation on the specific gene that caused a specific type of collagen production to malfunction ,  and with that, we had a firm diagnosis of osteogenesis imperfecta type II and information about an inheritance pattern. They could tell us with 93% certainty that this was a random event and should not impact future children. That other 7% is due to the possibility of something called a germline mutation, and man, am I glad I had a friend who just graduated med school to give me the advanced version of genetics for dummies. Here's to hoping we're in the 93%.
On a political note, this is a story about what in legal terms is known as a termination for medical reasons. Although I feel strongly that I made the right decision for my child  —  and really ,  it didn't feel like much of a decision  —  I know not everyone would agree. I hope that by sharing my story I may at least get one or two people to open their minds to the what-if:  What if ending a pregnancy  —  a much-wanted one  —  is really the right thing to do for the baby? And even if it wouldn't feel right to you, can you imagine how it might feel so to someone else? Who are we to say? I cannot even imagine what it would be like if our already-horrible situation had been compounded by travel, expenses, etc.
But the story is not just political  —  it's personal  —  and that's the point. Even I sometimes feel ashamed when I try to describe what happened to our baby. Do I call it stillbirth? Is that a lie? He was still born, wasn't he? I held him in my arms. I cried over him. Pregnancy loss? Does that feel inadequate? Wouldn't it have felt inadequate even if this loss had been much earlier? In my 8th week just as much as my 21st? It felt like the loss of a person so much more than the loss of a pregnancy. Abortion? But I wanted this baby! I loved him so much! In the end, does it matter what I call it? Isn't everyone's worst pain their worst pain, regardless of what it is named?
People are awesome,  so this is also a story about the power of friendship and generosity and connectedness . It's a story about the labor and delivery nurse who held my hand and cried (like not a couple of tears  —  she wept) with me when I met Beau. It's a story about the messages I got from near and far, from friends I talk to daily and those whom I haven't spoken with in months, that brought both smiles and tears. We didn't tell a ton of people, but wow, we got a lot of love.
It's a story about colleagues and mentors at work who supported me in taking time to grieve and be with my family, and who welcomed me back with patience and kindness (and continued to treat me gently when it became clear that I came back too soon). It's a story about acquaintances, friends of friends ,  just other humans who shared in our sadness and in many cases shared their own heartbreaking stories. Those stories helped me, so maybe this will help someone else.
It took me nearly five months to say this, but I think this is also a story about healing  —  the bit I've done and the lot I hope to still do. Some days, it feels like two steps back for every one step forward . Of all things, Duchess Kate's pregnancy announcement ruined my day. She is married to a prince, and she gets a healthy third baby? "Lauren, remember, she vomits for like nine months straight" — STILL NOT FAIR.
Every now and then, I still get on a conference call with someone who asks me when my baby is due. This date has been creeping up for a while. My therapist has more than earned her co-pays. Sometimes I feel scared  —  that I'll never feel whole, that I'll never have another healthy baby, that I will never be able to see the nine months preceding birth as a countdown to a celebration rather than a death march.
But mostly, I feel okay .  I feel hopeful to grow my family, I feel elated to welcome a niece or nephew in November, and I feel happy for (at least less jealous of?) those non-royal moms posting Facebook pregnancy announcements.
Last but not least, this is a story for Beau. I will not be able to plan his birthday parties, or make videos of his first steps, or hug him on his first day of kindergarten or dance with him at his wedding. So how else can I let the world know how much I loved him? How much I will always love him? How my family, no matter how large it grows, will ever feel completely complete? How Beatrice knows him by name, and Deacon will too, so he will not ever be forgotten? How I tell him goodnight every single night before I go to bed, sometimes multiple times, as I want him to always be the last thing I think of before I fall asleep?
You are so special little guy. Thank you for letting me be your mamma. I want the world to know how grateful I am.
This article was originally published on