We Dare You Not To See A Penis On This 'I Love My Dog' Shirt
by Julie Scagell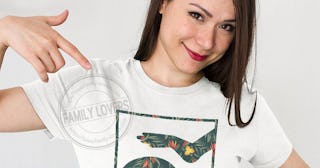 I Love My Dog via Facebook
Someone on their marketing team has a sense of humor
We all love our doggos and wearing a shirt proclaiming said love is just part of being a proud pet owner. A creative retailer has a super cute shirt available to shout your dog obsession to the world. Trouble is, it, um, doesn't exactly look like a dog.
It looks like a dong. There. We said it.
The 'I Love My Dog' Facebook page revealed a new T-shirt being sold by the Family Store and we have some questions. Namely, who in their right mind looks at this shirt and sees a dog and can we please be friends with the designer or entire marketing team?
Excuse me, ma'am. MA'AM. I regret to inform you that you aren't petting a dog, you are petting a giant, floral-patterned penis.
Listen, I know that I have a 12-year-old boy sense of humor but there is no way you look at this shirt and think to yourself, "Ahhhh, what a cute dog." Luckily, I'm not alone.
Apparently, they have several styles and colors to choose from and for under $20, it's a steal if you want to walk down the street with a giant peen on your chest.
And if you work in an office-type setting and feel like hanging with Human Resources for the day, you can also get the print on a coffee mug. Seems like a fun way to drink coffee to me.
The Family Store sells an abundance of sweatshirts, hoodies, T-shirts, jewelry, and home products in various categories including (but not limited to) Husband, Wife, Animals, and Owls, because owls are creepy AF and need their own category.
According to their site, orders from their store typically ship within five to ten business days (one to two weeks if you are outside the U.S.) so keep that in mind when planning your outfit for your next state fair or carnival.
If you're thinking to yourself, "I really want to buy this but live in a cold weather state," have no fear — these puppies come in hoodie form so you'll always have something to, umm, keep you warm at night.
You know the saying "put lipstick on a pig," which means making cosmetic changes to something or someone is a futile attempt to disguise their true nature? I'm not certain you can put a nose and one eye on this penis and call it a dog. Though everyone who sees it will definitely appreciate the effort.
This article was originally published on