100 Perfect 'I Love My Wife' Quotes To Show Your Appreciation On Any Occasion
by Team Scary Mommy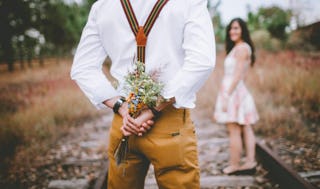 Pexels
Don't let inspiration run dry when you're seeking the right words to remind your wife of all she means to you. We've compiled a list of our favorite romantic quotes for wives, so you can keep her heart warm and stay far away from the dog house. Read on for our favorites!
I dreamt that you were mine, and then I woke up smiling because I realized it was not a dream. You are already mine!
"I love you and that's the beginning and end of everything-." -F. Scott Fitzgerald
I don't need the whole world to love me. I just need one person to love me. And that's you.
The first time I saw you, my heart began to whisper. Now I know what it was trying to tell me.
Moon of my life…
The touch of your love transformed my imperfections to perfection.
"Lovers don't finally meet somewhere. They're in each other all along." -Rumi
The way I fell for you was instinctive, as effortless as drawing breath.
Us: Love, laughter, and happily ever after.
"My most brilliant achievement was my ability to be able to persuade my wife to marry me." -Winston Churchill
When I met you, Cupid must've shot me with an arrow, twice.
"You know I can't let you slide through my hands. Wild horses couldn't drag me away." -Keith Richards and Mick Jagger
Thank you for being my wife.
"You know you are in love when you don't want to fall asleep because reality is finally better than your dreams." Dr. Seuss
It's as if your arms reached into the dirt to pull me back to life.
For the two of us, home isn't a place. It's a person… and honey, we're home!
"Time is very slow for those who wait. Very fast for those who are scared. Very long for those who lament. Very short for those who celebrate. But for those who love, time is eternal." -William Shakespeare
Our ancestors were surrounding us on the day we met. They would have never let us walk past one another.
My life revolves around you and nothing else matters.
You light up my life. I love you, my darling wife.
"The taste of love is sweet, when hearts like ours meet. I fell for you like a child, but the fire went wild. I fell into a burning ring of fire, and as I went down the flames burned higher." -June Carter Cash, performed alongside Johnny Cash
You are nothing short of my everything.
"In case you ever foolishly forget: I am never not thinking of you." -Virginia Woolf
If I ever lost you, I would track you down, even if I had to traverse the terrain of the entire earth. Such is the power of the love that my heart has for you.
You are the best partner I could have asked for in the business called life!
You and I, we are embers from the same fire, dust from the same star, echoes from the same love.
"Happy wife, happy life." -Irish Wisdom
A happy man marries the woman he loves. A happier man loves the woman he married.
"Love is composed of a single soul inhabiting two bodies." -Aristotle
If I did anything right in my life, it was when I gave my heart to you.
You are the source of my joy, the center of my world and the whole of my heart.
I am honored to share my life with you forever.
"I don't need anything more out of life. I have you, and that's enough." -Alessandra Torre
In a sea of people, my eyes will always search for you.
"We loved with a love that was more than love." -Edgar Allan Poe
My need for you overrides any desire I have for sanity.
"A good husband makes a good wife!" -John Florio
A wedding band is the smallest handcuff ever made, I'm glad I chose my cellmate wisely.
"And that laugh that wrinkles your nose, touches my foolish heart." -Frank Sinatra
You are the last thought in my mind before I drift off to sleep and the first thought when I wake up each morning, even still.
"I love you, and I will love you until I die, and if there's a life after that, I'll love you then." -Cassandra Clar
You are not just the mother of my children, but also the beat of my heart. You are not just the queen of this family, but also the woman of my dreams. I love you.
"She's a summer love in the spring, fall, and winter. She can make happy any man alive." -Grateful Dead
The impact of your love is undeniable.
Sweetheart, one night without you is like walking barefoot over flaming coals.
"Love is a friendship set to music." -Joseph Campbell
My life with you has transformed my dreams into realities.
I can't help but love you forever.
"We live, we die, and death not ends it." -Jim Morrison
If I was granted just one wish, I would ask for a longer life. The number of years I am destined to live on this planet may not be enough for me to tell you how much I love you.
"Real love stories never have endings." -Richard Bach
Ιn this ever-changing wοrld, you are the cοnstant by which Ι measure my progress.
No greater light illuminates my path than the love you've brought into my life.
"Death cannot stop true love. All it can do is delay it for a while." -The Princess Bride
I looked for a woman I could live with, but I ended up marrying the woman I can't live without. I love and cherish you.
"Take me to your river. I want to go. I want to give you every part of me." -Leon Bridges
Ι'd be lost without you.
I'm much more me when I'm with you.
"There is no remedy for love but to love more." -Henry David Thoreau
It's impossible to measure the depths of the love that I feel for you.
"The best thing to hold onto in life is each other." Audrey Hepburn
Ever since I've I met you, I find myself smiling for no reason when simply looking at you.
Your beauty, strength, and love fill me with happiness.
"I belong with you, you belong with me. You're my sweetheart." -Lumineers
I adore you.
"Love takes off masks that we fear we cannot live without and know we cannot live within." Thank you for taking off my mask.
"In all the world, there is no heart for me like yours. In all the world, there is no love for you like mine." -Maya Angelou
Your love keeps me going. The thought of coming home to you and lying in your arms at night makes everything perfect.
"A happy marriage is the union of two good forgivers." -Robert Quillen
Thank you for everything, my love.
"Woman was not made out of man's feet to be below him, nor was she made from his head, to be above him, but she was made from his rib, to be beside him." -Angie Lewis
The first time you told me you love me, it felt like I was being brought back to life.
I love you for all that you are, all that you have been and all that you will be.
"I love you not only for what you are, but for what I am when I am with you." –Roy Croft
You made me live again, and you opened my eyes to all the beautiful things that life has to offer.
"Marriages are like fingerprints. Each one is different, and each one is beautiful." -Maggie Reyes
"Love is like the wind, you can't see it, but you can feel it." -Nicholas Sparks
I want to close the entire city down just so I can be alone with you
"I got a woman with eyes that shine, down deep as a diamond mine. She's my treasure so very rare. She's made me a millionaire." -Chris Stapleton
I've fallen in love many times… always with you.
Each day I spend with you is another day that I can be grateful for. You are life's gift to me that I get to unwrap every day.
"You are the finest, loveliest, tenderest, and most beautiful person I have ever known and even that is an understatement." -F. Scott Fitzgerald
Our love is even better than my most beautiful daydreams and my favorite childhood fairytale. But this isn't a fairytale — our love is real and strong.
"Love is of all passions the strongest, for it attacks simultaneously the head, the heart, and the senses." -Lao Tzu
"The best love is the kind that awakens the soul; that makes us reach for more, that plants the fire in our hearts and brings peace to our minds. That's what I hope to give you forever." -Nicholas Sparks
"Keep love in your heart. A life without it is like a sunless garden when the flowers are dead." -Oscar Wilde
Thank you for always being my rainbow after the storm.
"Love is all around us." -Love Actually
Just when I think that it is impossible to love you anymore, you prove me wrong.
"You know it's love when all you want is that person to be happy, even if you're not part of their happiness." -Julia Roberts
You fascinate and inspire me. You thrill and excite me. You calm me and give me peace. You are simply amazing, and I will spend my whole life showing you how much I love you.
"Let the wife make the husband glad to come home, and let him make her sorry to see him leave." -Martin Luther
Nobody can believe that I love you the way that I do because it's hard to imagine that a love like ours can exist.
"We are shaped and fashioned by what we love."-Johann Wolfgang von Goethe
You have found true love when you realize that you want to wake up beside your love every morning even when you have your differences.
"For it was not into my ear you whispered, but into my heart. It was not my lips you kissed, but my soul." -Judy Garland
You are my today and all of my tomorrows.
"At the touch of love everyone becomes a poet." –Plato
When we are in love we seem to ourselves quite different from what we were before.
"The best and most beautiful things in this world cannot be seen or even heard, but must be felt with the heart." -Helen Keller
This article was originally published on