An 'I Love New York' Reunion Is Happening & It Feels Like 2007 All Over Again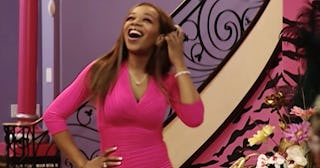 VH1/Youtube
And, yes, the reunion will star Tiffany 'New York' Polland and her former suitors
Back in 2007, a time when nobody in their right mind imagined that reality television millionaire Donald Trump would one day become the President of the United States of America and the word "pandemic" was most closely associated with the mediocre 2005 movie Outbreak, Americans were captivated by a VH1 show called I Love New York. The Flavor of Love spinoff starred Tiffany "New York" Polland, a finalist and fan favorite from Flavor Flav's dating show, seeking love in the Big Apple. While the show only lasted two seasons, Polland became a household name due to her flamboyant, sassy, and downright diva personality. Because 2020 is the worst year in the history of our generation, VH1 has decided to gift us with a much-needed dose of Polland in the form of a one-hour reunion special.
I Love New York: Reunited will air on Nov. 23 directly following VH1's day-long Throwback Thanksgiving in which they will air the previous seasons starting as early as 9 a.m. According to an official press release, it will be hosted by Vivica Fox and will consist of "Pollard and some of her most memorable flings will revisit the show's greatest moments, break down the biggest heartbreaks, and dive into how the cast members' lives have evolved through the years."
In September, Pollard returned to VH1 with a show dubbed Brunch With Tiffany, showing a different side of herself by conducting meaningful interviews with people, mostly VH1 favorites.
"A lot of people always tell me, 'We didn't know you're so intelligent,'" she she told Vogue at the time. "I feel like the cast each had something personal going on. People really needed to elaborate on personal things in their lives and in their careers. People feel like they can trust me, like they can open up to me and talk about anything."
VH1 has yet to reveal exactly which of the former contestants will reappear, but we can always hope that we will be blessed with a cameo by Flavor Flav himself.
The day after the I Love New York reunion, VH1 is also treating us to a a one-hour special of Hollywood Exes: Reunited. Andrea Kelly, Nicole Murphy, Mate Garcia, Shamicka Lawrence, Shanna Moakler and Sheree Zampino are all set to make an appearance when it airs Nov. 24 at 8/7c.
Catch the I Love New York reunion on Nov. 23 at 8/7c on VH1.