9 Reasons I'm Already Missing Michelle Obama
by Lisa Sadikman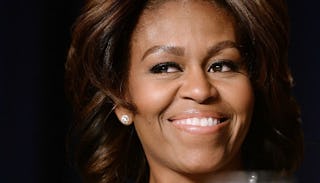 Getty Images
Whether we like it or not, our beloved Obama family has left the White House, which means Michelle is no longer our first lady. It hasn't been long, but I'm already missing the hell out of her. In her, we see the best versions of ourselves: a committed mom, a dedicated partner, a person of fierce values, a capable, bold, intelligent woman who's not afraid to be silly and whom we wouldn't mind hitting the dance floor with. She is smart, she is irreverent, and she is real.
The role of first lady is loosely defined, and because it's not an elected position, it comes with a lot of freedom. Michelle Obama could have slipped into the background of her husband's spotlight, but that's not who she is. Instead, she let her voice ring loud and clear on important issues of our time, never played down her intelligence, rallied us to the cause, and proved her pop culture prowess with both sassy and endearing media appearances. Michelle and James Corden singing "All the Single Ladies" on Carpool Karaoke, anyone?
Here are a few reasons I already miss having Michelle as our first lady:
1. She's a Totally Relatable Mom
When the Obamas first moved to the White House, Michelle prioritized her daughters and their transition. She shielded them from unnecessary scrutiny when they were younger and helped them enter the limelight gracefully as they grew older. Over their eight years in the White House, she kept their lives as grounded as possible. When Time magazine named Sasha and Malia among the most influential teens of 2014, Michelle immediately called them out saying, "They're not influential. They just live here." Yep, that's pretty much how I feel about my kids.
2. She Is a Dazzling Public Speaker
Michelle Obama's words are conversation starters. I will never forget the moment I first heard her say, "When they go low, we go high," or the way my heart swelled when she introduced Barack at the Democratic National Convention in 2008. Whether she was speaking to a global audience of millions or a few dozen teenage girls, the first lady inspired me to think harder and deeper about what I can do to make this world better.
3. Her Toned Arms
When Michelle bared her arms in 2009 for her first official photo as first lady, she caught some major slack. Showing her buff biceps was called everything from unseasonable to too informal. Let's be honest: All that talk was an effort to impose an outdated notion of decorum on a decidedly modern first lady. She didn't give in to it and instead those amazing arms went on to motivate millions of women to grow stronger, both inside and out.
4. She Has an Edge to Her
From her famous side-eye to her well-known teasing of the president, Michelle Obama is the queen of the graceful shutdown. She also stands her ground in a way that lets you know not to mess with her. If she doesn't agree with something, she's not going to pretend that she does. She's sharp as a tack, hilarious, and completely in charge no matter how many handlers she's got around her.
5. She's Authentic
Michelle has always shown us exactly who she is and what she values. She's never tried to hide her opinion, intelligence, or wit, and she's never once skirted around the reality of being black in America, being a woman, or living a life of privilege.
6. Her Wicked Sense of Humor
How refreshing it was to have a FLOTUS who wasn't afraid to have fun, crack a joke, or pull a goofy face! She was especially happy to ham it up for a cause. She totally kicked Ellen's butt in a push-up challenge and showed us her "Evolution of Mom Dancing" moves on The Tonight Show Starring Jimmy Fallon for her Let's Move! initiative — twice. I'm absolutely certain that Michelle and her girls had dance parties in the private White House kitchen. FLOTUS, just like us!
7. Her Partnership With Barack
Some of my favorite photos of the former first couple are those unguarded moments when they're touching foreheads or exchanging a deep, knowing look that says, "You got this, and I got you." It's clear their partnership is one of mutual respect, love, and admiration — and it's a model for us all.
8. Her Dedication to the Issues
Support for military families, healthy eating and fitness, and education initiatives (especially for girls) are near to Michelle's heart. We saw her dig in the organic White House garden, slam dunk the Miami Heat to support her Let's Move! program, and implore girls to finish their schooling because, "There is no boy […] cute enough or interesting enough to stop you from getting your education." Truth.
9. Her Sense of Style
Whether she was greeting heads of state or hula-hooping, the first lady's style always stunneed. She made some spectacular fashion choices over the years, from her everyday J.Crew skirts, belts, and cardigans to her chic couture gowns. The thing we have in common, though, is that whatever she wore must be comfortable. I feel ya, FLOTUS. #yogapants
Now that Michelle Obama has left the White House, she will be sorely missed. I'll never forget her unique combination of strength and grace, dignity and humor, and just plain normalcy that made her and Barack so accessible as leaders and role models. Although she's gone from this country's center stage, Michelle Obama will always be in our hearts. I have a feeling, too, that she'll be beside us where and when we need her most. Thank you, Michelle, for being your best self and inspiring us to be ours.