'I Really Care' Clothing Exists -- And It's Selling Out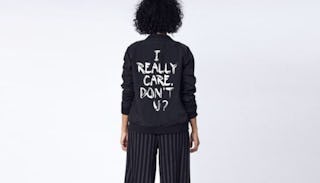 Image via Wildfang
"I really care" clothing is in response to Melania Trump's "I really don't care" jacket
Melania Trump's tone-deaf (and possibly deliberate) fashion statement as she boarded a plane to visit detained migrant kids set off a firestorm of criticism — and activism. The first lady wore a green Zara jacket with the phrase "I REALLY DON'T CARE, DO U?" emblazoned across the back, and now? Designers are selling out of a much better version of the flippant and cruel slogan.
Yup. It's happening. People can't hand over their money fast enough to get clothing featuring phrases like "I really care, don't u?" and "We care a lot."
Female-founded clothing company Wildfang now offers a bomber jacket and t-shirt with wording exactly opposite that on Trump's bizarre outerwear choice. The jacket comes in both black and olive green, but the olive is already sold out.
To make it even more awesome, Wildfang is donating all profits from the $98 jacket to the Refugee and Immigrant Center for Education and Legal Services (RAICES). Literally, shut up and take my money.
PSA Supply Company has their own version with all profits going to charity.
https://www.instagram.com/p/BkTrJAuDPIB/?utm_source=ig_embed
If loud t-shirt slogans aren't really your thing, there are daintier options, and again, proceeds go to worthy causes to help migrant kids and families.
Etsy is literally full of choices including this pretty patriotic version. Because if you truly want to make America great again, you start by actually giving a shit.
Or you could be like Busy Philipps and just make your own. Crafty (and caring) AF.
While the first lady's press secretary, Stephanie Grisham, insists the jacket was just a jacket with "no hidden message," some of us heard (and saw) the message loud and clear. Luckily, the response in the opposite direction is so much louder.