I Told My Kids I Was Dating And Their Reaction Was Surprising
by Elaine Roth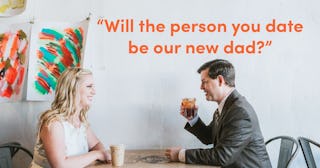 darcyferris Ferri/Reshot
We've done hard, life-changing conversations before, my kids and I. I've introduced them to the word cancer and explained to them how cancer, when it's on someone's brain, might make them act in ways that seem strange, even scary. I've sat them down and told them that sometimes doctors can't fix someone, even though they've tried their best. I've defined hospice and attempted to answer questions that have no true answers.
I've said things I should never have to say, like "Daddy died last night."
And recently, we had another hard conversation. Not one as dramatic as life and death, but one that had the potential to, once again, upend their world.
Armed with their grief therapist's advice, over hibachi noodles and fried rice, I told my kids I was dating in as simple terms as I could manage. While referring to the notes I'd taken during my brief call with their therapist earlier that morning, I told my ten-year-old daughter and eight-year-old son that I'd begun dating. I emphasized that they would always be my priority, which meant that I wouldn't introduce them to anybody until I knew that it was someone special, someone who would be around for the longer term. I wanted them to know their world was not changing much—they still had me completely, but maybe they'd also have to deal with a babysitter a few nights a week.
The therapist warned me there'd be confusion mixed with excitement, but that ultimately my kids would be happy because I was happy.
When their jaws dropped, and when they stared at me with utter disbelief and shock and horror on their faces, I felt like the most selfish mother that had ever lived. I wished I could take back those words, that admission. Because how could I hurt these two children who had been hurt by so much already? How could I choose to pursue something that felt so purely self-centered?
For a heartbeat that lasted a few seconds less than an eternity, they said nothing. My guilt grew, my selfishness became abhorrently clear. Choosing to date was a choice I'd made purely for me—because I was lonely, and because I missed the friendship and companionship that came with having my person by my side. Choosing to date meant spending a little less time with them, meant giving someone else—a stranger, essentially—some of my time and energy and attention, which already felt too diluted thanks to life and solo parenting and building two careers simultaneously.
As I scrambled to find new words to repair the clearly irreparable damage I'd done to their hearts, they started cheering. My daughter jumped up from her seat and clapped her hands; my son's eyes lit up and they both rapid-fired questions at me.
Who was I dating? Was I going to get married? How was I finding anyone to date? Who would watch them when I went on my honeymoon? Do all phones come with a dating app?
The questions were endless, kind of hysterical, and largely unexpected. Their enthusiasm and excitement was infectious. Knowing they were happy, excited even, filled me with a certain kind of adolescent giddiness as I answered each question to the best of my ability, sticking to the therapist's advice of keeping it simple, while also walking that line of honesty. My goal, my reason for telling them anything, was honesty. For months I'd been secretive about dating, being vague about the reasons I needed a sitter, speaking only in the broadest terms whenever the subject of me marrying again came up, because I needed to feel ready in my own heart before I introduced the concept to them. I was dating, but carefully, still testing the waters. I needed to be sure those waters were the right temperature before I dove in.
Telling the kids meant that I'd chosen to do more than skim the water with my toe. It meant I was diving in.
Which meant, it was only a matter of hours before the harder questions came.
Will the person you date be our new dad? Can we love daddy and someone new at the same time? And the one that erased all that earlier adolescent giddiness and nearly broke my heart into too many pieces: Will we forget daddy if we like this new guy?
I'd prepared to answer questions about my time, to confirm my priorities, to reassure them that I would always be there for them, but they weren't worried about me. They weren't worried about getting enough love; rather, they were worried about whether they'd have enough love to give. It was a turn for which I was completely unprepared.
But we've had the hard conversations before. We've sat and stared into each other's eyes and discussed things that shouldn't be. We've been honest about fears and hopes and griefs and joys.
So that night, once again, I gave my kids a truth. I told them that remembering Daddy is something we do every time we choose to say his name rather than shy away, and we could never forget him no matter who enters our lives, because love doesn't work that way. I told them that our hearts are capable of more love than we could ever imagine, and that when someone new enters our lives, the love we feel doesn't divide in order to make room for someone new, but rather that love expands without taking anything away from anyone else.
I told them the truth as I know it: that somehow, through the magic of humanity, through the miracle of our hearts, we always find the room to give more love.