I Used To Think My Son Needed To Be 'Daddy's Helper.' Now I Realize My Daughter Needs To Learn These Skills Too.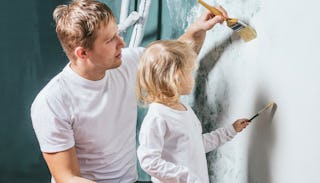 istock/Kuzmichstudio
The day after Christmas I was in the attic with my 7-year-old daughter hammering down plywood to create a storage space. It was dark up there, so we both wore headlamps. It was cold, too, and dusty. We had to watch where we stepped, because between the two-by-fours was nothing but sheetrock. One wrong step could send one of us tumbling into the garage. My daughter was in a thick purple coat, with a brown faux-fur-lined hood, a Frozen T-shirt that changed colors in the sun, and a blue skirt, her bony little knees tucked beneath her butt as she crouched and handed me nails.
I asked my 9-year-old son to help with this project, and he looked at me like I'd asked him to build a house rather than simply put down a few strips of lumber. He also told me that the attic was scary and cold and he wasn't all that interested. In the moment after his refusal, and before my fatherly instinct to force him to help, my daughter tugged at my pant leg, like she often does, looked up at me with a gap-toothed grin, and chirped, "I'll help, Daddy."
In the past year or so, my daughter has become my little helper. She's the one at my side walking through the hardware store. She's the one handing me nails, and tools, and recounting episodes of My Little Pony, as we fix this or that. And the thing is, I'm not all that handy. My father wasn't around much, so I've had to learn how to do a lot of stuff by watching YouTube and cursing and hitting my fingers with a hammer.
But the sad fact is, even if my dad was around, I'd probably have pulled the same moves as my son, putting up a fight to get out of doing any sort of manual labor. And there are times when I force him to help me. Sometimes I really need his help. Sometimes I just want to spend time with him. And sometimes I feel like I'll be a failure as a father if he leaves my house without knowing how to swing a hammer or run a drill. And for a long time, I honestly only thought about my son when it came to using tools.
But with daughter getting older combined with her eagerness to help me with house maintenance, I've started to reframe my antiquated idea that my son should be Dad's Helper.
All of this reminds me of the Katie Bingham-Smith's article "I Don't Wait for My Husband to Get Home. I Can Do Sh*t Myself." In it, she's reattaching the garage door to the motor, when her son says, "Just wait for Dad to come home and do it." Her response was something wonderful. "I told him I was perfectly capable of doing it by myself and didn't need to wait for his father to fix it." She then goes on to list all the reasons it's important for her to fix things herself, the main point being, that women are just as capable as men when it comes to running a drill, fixing a sink, or being the CEO of a Fortune 500. Which ultimately means men are perfectly capable of soothing a child in the night, managing a home, wiping butts, and many other duties that have been deemed a mother's job.
As important as I feel it is for my son to leave the house knowing how to swing a hammer and run a drill, I think it's equally important that all my children leave home understanding just how capable they are, regardless of their gender, and that there is no shame in being a stay-at-home dad or a mother working construction.
In the past year I've shown my daughter how to hold wood so that she won't get a splinter, swing a hammer and drive a screw, open and shut paint cans, climb a ladder, walk carefully on the roof when cleaning gutters, lay mulch in the backyard, and turn off the water main. With each project, she looks up at me with a bright-eyed curiosity, and I feel a bond with her that is genuine and unique and transcends far beyond gender.
Once she and I finished putting down plywood in the attic, I carefully helped her down the ladder. And once on the floor, she smiled up at me. Then she hugged my leg, like she often does, and asked when we could work on the attic again. We'd been up there for a couple hours. My knees and back were sore from crawling around. The last thing I wanted to think about was when we'd work on the attic again. But there was a warmth in her excitement that was difficult to say no to.
"Next weekend," I said. "I need a break."
She jumped up and down as though she'd just received an invitation to a birthday party. Then she went in the house and bragged to her brother about how she got to use a hammer.
Like anything in parenting, I don't know how long this "Daddy's Helper" phase will last, but at the moment, I'm really enjoying showing her how to work around the house because it's giving her an independence that I want her, as a girl developing into a woman, to have. I don't like the idea of her waiting around for a man to do something.
I like the idea of her doing all that she is capable of, because she is capable of so very much. I like the idea of her bringing all her skills to the table, regardless of gender, and then expecting the same from her future spouse. I want her to leave my home expecting an egalitarian relationship, and I want the same for my son. So for now, I will keep inviting her to help me, and I hope her enthusiasm hangs around for awhile.
This article was originally published on