I Want To Be Brave Like Kesha, But I'm Not Ready Yet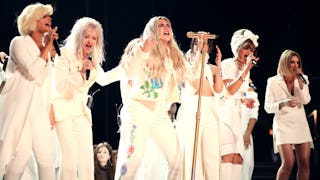 Image via Christopher Polk/Getty Images for NARAS
Kesha's performance of "Praying" at the Grammy's has made me feel brave.
As I watched her powerfully pour her soul into her gut wrenching performance, I typed his name into the search bar of Facebook while wiping my ugly cry tears from my cheeks.
His face appears, and suddenly I am face to face with my attacker.
I look at his profile picture and I see the smile that fooled me twenty-two years ago.
The eyes that twinkled at me from across a crowded bar mock me now, and it is almost as if I can hear the smooth way he sweet-talked me into giving him my number.
His face is older now; his cheeks are fuller. He's greying and losing his hair. Oh, and he's married, now.
Twenty-two years have passed since he assaulted me on a warm, Spring night.
His eyes stare back at mine, and I wonder if he remembers.
I wonder if he remembers that night the same way I do. Because I remember it all, in vivid details, that I would love to forget.
I wonder if he remembers knocking on my dorm room door with an armload of roses.
I wonder if he remembers gently brushing my hair out of my eyes as he pecked me on the lips before I slid into his car.
Had he already decided to hurt me?
Does he remember taking me to his apartment and apologizing for the mess?
Does he remember sweeping me into his arms and telling me he wanted sex? I wonder if he can still feel me in his arms as his muscled arms tightened his grip when I tensed and said, "Not tonight."
Does he remember the smell of my perfume the same way I remember his cologne? Does he smell my perfume in a crowd and instantly feel sick?
Or, in the age of the Aziz Ansari's, does he "not remember things the same way"?
Is he sorry?
Did he go home that night, feeling shameful that he forced himself on me?
Or, did he not think twice about his brutal act of sexual assault once he dropped me off at my dorm with an "I'll call you tomorrow, okay?"
I wonder if he watched me gather my belongings and gingerly get out of his fancy sports car and thought that it seemed odd that I was clutching my coat and limping back to my dorm.
Did he wonder if he'd gone too far?
Did it even occur to him that what he'd done was wrong?
No.
I'm certain he doesn't carry the shame of that night.
I'm certain he doesn't even remember my name.
Perhaps my face crosses his mind from time to time. "What was that brown eyed girl's name again? We had a good time that night. I wonder why she never returned my calls?"
No. I was dispensable. An object to be had and cast aside. A conquest.
In that darkened room, as he brutally shoved his hand so deeply inside me that I felt tissues pulling and ripping, he didn't think twice about taking what was rightfully his.
As the TV blared the sounds of an 80s movie I can no longer stand to watch, his face scratched mine as he told me to shut up.
I squirmed and I struggled.
I said NO.
But he didn't care.
I didn't matter.
Not to him.
His hand on my neck, squeezing tightly to keep me still, made me panic. Fighting meant I could pass out from suffocation, and then I wouldn't be able to control what he did.
No, stay awake. Stay alive. Wait until it's over.
It's better that way. It'll be over soon.
The words in my ears, the filthy phrases and words that make me cringe when I hear them today, still wake me up at night. Cunt. Pussy. Whore. Those words have become triggers that bring me right back to that darkened room within milliseconds.
And now, all these years later, I see his face again.
Standing next to his wife besides a perfectly trimmed Christmas tree.
I look at her face, searching for signs that he's done it to her, too.
But there's no way to tell.
Because we become experts at hiding the shame. The panic. The fear that it will happen again.
We push the fear down when the flashbacks hit us like waves of bricks.
We become adept at hiding our secrets from our friends and family.
We hide our shame from our spouses because it hurts too much to say, "The way you are touching me makes my skin crawl."
We learn how to redirect hands and ask our partners for a different position in bed. We buy our spouses new cologne for Christmas to replace the one that smells like what our attacker wore.
It's better that way.
No one has to know.
We keep it tucked inside, but it gets harder to stay quiet.
We watch as a man who grabs pussies is elected to the Oval Office.
And we cry in our kitchens as we realize that even our elected officials don't care that we have been hurt.
Hope comes in the form of damning tapes and audio recordings of a Hollywood mogul attacking an actress, though.
I know I'm not alone as I shiver on my couch and force myself to stay calm as the details of yet another sex scandal sound eerily like the details of the night the man with the blue eyes stole my innocence.
We watch as powerful men finally receive their long overdue comeuppance.
It's too little to late, but at least it's something.
We watch as women bravely stand up for those of us who are still struggling to find our voices.
Harvey Weinstein. Kevin Spacey. Matt Lauer. Charlie Rose.
Every story that breaks is a fresh round of triggers. The news has become unbearable. As I've watched the litany of famous men fall from grace, I get angrier by the day.
These men, these public men, are the ones who were caught. These famous men are made public examples almost as if to say, "We've done our job. Men will stop being predators now."
But, what about the predators who still walk among us? The ones who stare back at us in Facebook photos as if they have done nothing wrong?
When will my attacker fall from grace?
When will the world know what he did to me?
When will I be as brave as Kesha? The gratitude I feel for my friends who have spoken out is overwhelming. I want to be just like them.
I want to be brave, to speak my truth, to find a way to heal.
Today is not that day though. I'm not there yet.
Will I ever get to a point where I can say "Me, too" and not feel shame? I have looked at my reflection and said, "Me, too" when I'm alone, as if I'm practicing for the day when I feel strong enough to admit to the world that I was raped.
For now, I stay silent.
I hide.
I live with my shame and trauma in isolation.
I sit in a darkened room and look at his face, glowing in the dark from my phone.
I look him in the eye as I stare at my screen, and I say, "Me, too."
I hope you're somewhere prayin'. I hope your soul is changin'.