Forget The Spa - I Want To Be Treated Like A Toddler For A Day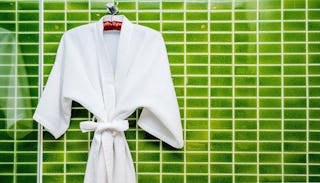 Youth is wasted on the young. I never truly understood this phrase until I had a toddler.
Toddlers have it made! And they have no idea. No idea. They fucking hate everything and they are truly living their best life. I'm convinced Oprah got the idea for her inspirational meme after spending the day with a three-year-old.
You can keep the spa: I want to be treated like a toddler for a day. There is truly no greater life: I'm sure of it. Why hasn't anyone thought of this yet? If a "Toddler For A Day" spa existed, these would be the packages…
Package 1: The Nap
Someone follows you around all day, trying to get you to nap. They gather items that make you feel most comfortable (like your favorite pillow) and let you carry them around everywhere. Members guide you into a dark room and sing the theme song to your favorite show while you drift away into hours of uninterrupted sleep. You can occasionally scream out demands and someone will be at your beck and call.
Package 2: Food Therapy
Someone follows you around a designated part of the spa trying to get you to eat. They package starts with healthy options, then devolves into letting you shovel anything your heart desires into your mouth. Endless options. Take a bite, throw the rest on the floor — do you. Customers have described it as "liberating" and "satisfying."
Package 3: No Judgement
This package includes the use of two deluxe suites. In the first suite, there are endless snacks for you to eat or reject at will. Upgrade to "No Judgment Deluxe" and you can crush food into the carpet and we'll provide various liquids for you to squirt all over the room. The second suite contains other people's things that you can just gather and destroy. Customers have called the No Judgment package "life-changing" and "therapeutic."
Package 4: Emotional Detox
Need a release? This is for you. Three to five members of our qualified team of mood managers will follow you around as you verbally berate them. You provide us with a list of all the things you love before your session, and our team intermittently presents them all to you as you yell I don't want it! and throw all the items in their faces. Scream like a banshee as our staff continues to treat you lovingly despite your psychotic behavior. One customer said this about the package: "I felt fully accepted."
Package 5: The Works
Three hours of endless food choices, destroying other people's things, and screaming into an abyss — while someone follows you around telling you how cute you look and how much they love you.
I would pay good money for any of these.
Related post: 20 Ways To Embrace Horizontal Parenting
This article was originally published on