Ian Somerhalder Threw Out His Wife's Birth Control And The Internet Is Disgusted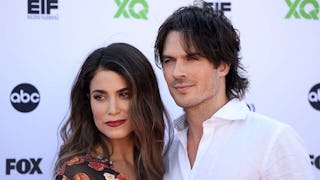 Image via Amanda Edwards/WireImage/Getty Images
He told the story of flushing his wife's birth control pills down the toilet — and Twitter isn't having it
We last heard from Ian Somerhalder and his wife Nikki Reed right before the birth of their daughter, Bodhi. The couple made news for their vow to turn off their phones for a whole month after she came, to have time together as a family. We all giggled at their new parent presumptions and moved on with our lives.
Now, a story has come to light about how that baby came to be. And it's not exactly laughable. Somerhalder admitted on a recent podcast appearance that he threw out Reed's birth control pills without her knowledge or permission because he wanted a baby.
https://soundcloud.com/user-434309123/nikki-reed-and-ian
Somerhalder told his tale on the podcast Dr. Berlin's Informed Pregnancy (oh, the irony.) The transcript is hard to read, as you can tell by his tone that he thinks this is just a precious story that shows how much he wanted a baby, which he obviously assumes everyone else will find irresistible instead of eyebrow-raising.
In the hour-plus interview, Somerhalder also shares that he told friends on he and Reed's second night together that he would marry her. Not that he thinks "this is the woman I'm going to marry," he literally said, "we're getting married" without cluing in his brand-new girlfriend.
The pair were on vacation with friends in Barcelona last year when Somerhalder decided to ditch his wife's birth control. That's right — they were thousands of miles from her physician, so getting a new pack any time soon wouldn't have been easy.
"So when did you really decide to have a kid?" Dr. Berlin asks. "May, I can tell you," says Somerhalder. "Oh yeah, when you threw out all my birth control pills! That was also presumptuous," says Reed, referring to the fact that he decided they were engaged on their second date.
"We decided that we wanted to have children together, and it was just time," he recounted to Dr. Berlin and his co-host, the couple's midwife Blyss Young.
Somerhalder: But unbeknownst to poor Nikki, she didn't realize that I was gonna go in her purse and take out her birth control and…by the way, it was the beginning of the pack, so I had to pop all of those suckers out…
Young: Nikki! How'd you feel about that?
Reed: There's a photo of me, and I look like—
Somerhalder: There's a six-minute video where she's freaking out.
Dr. Berlin: I want that photo.
Reed: You know what, I might actually have it. I'm sure I do.
Somerhalder: When we're done, I'll show you. I have the video.
Reed: There's a video? Why are you always taking a videos of me and I don't know it?
Somerhalder: I was in the video, you nerd! Lindsey took the video with my phone!
Reed: Oh, maybe that's why!
Young: You're a nerd by the way.
Reed: I know. I'll own it.
Somerhalder: What's so cool is there's this video of me with this handful of these little pills. [Lindsey] is sort of like interviewing Nikki, like, 'How are you feeling,' and I went like this, and Lindsey so expertly put it on slow motion, and you just see them…and they slowly go into the toilet.
Reed: I've never seen this. Was I drunk? Was I coherent?
Somerhalder wraps up the exchange acknowledging that their choice to have a baby together was basically all him. "Now that we're thinking about it, I guess I kind of decided," he quips.
After the podcast aired, Twitter caught wind of Somerhalder's actions and the internet is calling him out.
Reed also took to Twitter, to defend her husband's actions and suggest the conversation was "funny" and the interpretation by many that her husband violated her reproductive freedom was a "false narrative."
Whether Reed was OK with her husband making the choice to take her off birth control or not, the couple being in the spotlight with millions of impressionable young fans means this story going public matters. Without knowing her feelings about it, we're left with his version.
And it's not a good look.
H/T BuzzFeed
This article was originally published on