Child Screams 'Don't Take My Dad' As ICE Officials Drag Man Out Of Car Window
by Julie Scagell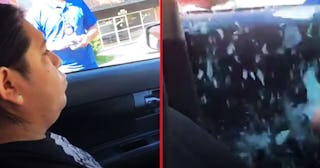 Cheyenne Hoyt/Facebook
Their son was screaming, "Don't take my dad."
Shocking video was recorded and released this week by a woman whose boyfriend was forcefully taken by ICE agents who busted out their car window while they were on their way to take their seven-month-old daughter to a doctor's appointment.
Florencio Millan, who the government says is an undocumented immigrant, told ICE officials he would not leave his car without seeing a warrant, which agents were unable to produce. As the situation escalated, his girlfriend, Cheyenne Hoyt, began recording the incident and shortly after they smashed through the car window and arrested Millian.
"He told my boyfriend to get out of the car or this could go bad," Hoyt told CNN. "So once again, I asked for the warrant, he refused me again, I asked the name on the warrant and he refused," telling the pair their warrant was "paperless." Shortly after, Kansas City Police arrived on the scene.
At one point in the video, Millan can be heard telling the officers they have no right to break the car window because it's his property. "I don't care whose property it is," an officer responded. "You roll the window down or I'm gonna break it. That's how it's going to go. They're here to talk to you and take you back to where you need to go, so you can either get out of the car, or we're going to break the window and you can get out of the car. Which one are you going to do? You can either do it the hard way or the easy way."
Officers tried to negotiate with him for about 25 minutes until they were left "with no other choice than make the arrest by physically removing him from the vehicle," ICE spokesman Shawn Neudauer said. At the time they were stopped, the family had both small children in the car.
"He has a prior criminal history that includes misdemeanor offenses," Neudauer said. According to his girlfriend, Millian had a parking ticket in 2007. He was deported several times, returning to the U.S. to be with his family.
US Rep. Emanuel Cleaver said the scene made by ICE was "very concerning as to the traumatization of children and the reasonable use of force," and he'd reached out to all parties for more information. Millian has since been deported back to Mexico.
Hoyt said once agents broke through their car window, she told Millian not to resist arrest. "I put my hand on his shoulder and I told him not to refuse or not to resist because I didn't want them to shoot him in front of my kids," she said.
Trinidad Raj Molina, Program Coordinator for Advocates for Immigrant Rights and Reconciliation (AIRR) is working with Millan on next steps. "No one is arguing the prior deportation but rather this arrest," Molina said. "We're trying to figure out why it happened like this."
"Don't take my dad," their son screamed during the ordeal, leaving many outraged at how agents and officers handled the situation.
This article was originally published on