ICE Arrests 680 People At Food Processing Plant Leaving Their Kids Without Parents
by Leah Groth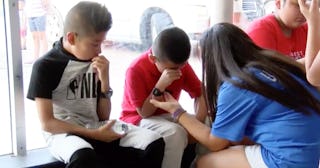 WJTV
"My dad didn't do anything, he's not a criminal," an 11-year-old pleads
On Wednesday, US immigration authorities detained 680 undocumented immigrants at food processing plants across Mississippi. According to US Attorney for the Southern District of Mississippi Mike Hurst, the arrests spanned seven sites in six different cities in the southern state and are "believed to be the largest single-state immigration enforcement operation in our nation's history."
"Today, through the hard work of these men and women, we are once again becoming a nation of laws," Hurst told reporters about the arrests, which he explained were backed by Homeland Security Investigations administrative and criminal search warrants.
Acting ICE director Matt Albence pointed out that the arrests were not the result of any new laws or enforcement methods. "The arrests today were the result of a year-long criminal investigation. And the arrests and warrants that were executed today are just another step in that investigation."
While the arrests in and of themselves are beyond disturbing, what is happening to the children of those detained is even more horrifying. In fact, many of them — some as young as toddlers — were forced to rely on neighbors and sometime even total strangers to take them to community centers after the raids. According to a heartbreaking report from WJTV, the children cannot stop crying for their parents.
"Government please show some heart," 11-year-old Magdalena Gomez Gregorio told the news station, "fighting back tears" after her father was taken from her. "Let my parent be free and everyone else please don't leave the child with crying and everything."
"I need my dad and mommy," Gregorio continued. "My dad didn't do anything, he's not a criminal."
Christina Peralta, godmother of two children whose mother was arrested, explained that the boys fear they will never see their mother again. "He said his mom is gone, that he's upset with Trump, he said he just wants his mom back," she said. "And they've been crying all day long since they got home from school."
Yep, school. The school year kicked off in Texas this week. So in addition to all that normal stress that kids experience adjusting to the new year, they have this other, completely unreal trauma and upheaval dropped on them. Apparently teachers are dealing with the aftermath the best they can. But how in the world do you comfort a kid who doesn't know if they are ever going to see their mommy or daddy again?
People are seriously pissed about the situation, venting about it on social media.
Fortunately, Clear Creek Boot Camp owner Jordan Barnes and other community leaders have set up a place for the children to eat and sleep and are even providing transportation for them to get to school. But still — can you imagine your children camping out with total strangers, not knowing if they're ever going to see mom and dad again? Every American should be deeply ashamed.
"I understand the law and how everything works and everything needs to have a system," Barnes stated. "But everybody needs to hold the kids first and foremost in their minds and that's what we've tried to do here is give them a place to stay and ease the pain a little bit."
While many of us feel extremely hopeless and helpless about this situation, one thing we can do is support organizations helping these children. For example, you can donate food or supplies for the kids through Jordan Barnes by calling The Clear Creek Boot Camp at (601) 940-1690.
Also, we have to keep fighting the fight — no matter what. Whether that involves boycotting specific companies that support this humanitarian nightmare or writing letters to politicians. If you are able, consider fostering a child displaced by the crisis. Just do something, anything, until our country gets its act together.