ICE Arrests Undocumented Father While He Drops His Kids Off At School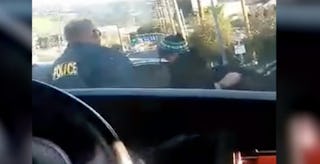 Image via Avelica-Gonzelez Family
An undocumented father of four was arrested while driving two of his children to school last week
Romulo Avelica-Gonzalez was doing what many parents do each weekday morning – driving his daughters to school – when he was arrested by U.S. Immigration and Customs Enforcement (ICE) agents. The 48-year-old father of four had just dropped off one of his daughters at her school in Highland Park, a neighborhood in northeast Los Angeles, and was on his way to drop off his 13-year-old daughter, Fatima, at another school in the area when ICE agents pulled him over. The father was arrested and detained while his teen daughter looked on from the car, sobbing.
"I was scared and sad at the same time," Fatima, who captured the situation on film, told CNN. "I never thought I would have to experience something like this in my life… on my way to school."
One of Avelica-Gonzalez's other daughters, Jocelyn, told CNN the family had been fearing this since the election. "We just weren't prepared … We thought if we don't talk about, it's not going to happen."
Avelica-Gonzalez has been living in the U.S. for more than 25 years, and he took his two younger daughters to school every morning before going to work at a restaurant. His two other children are grown. Although ICE said in a statement that he was arrested because he had multiple criminal convictions, Ricardo Mireles, executive director of the charter school Academia Avance, told KABC-TV that Avelica-Gonzalez's DUI conviction occurred nearly a decade ago and his other run-in with the law came 20 years ago when Avelica-Gonzalez unknowingly purchased a car with an incorrect registration sticker. While it's technically true that Avelica-Gonzalez broke the law, what seems to be lacking from the current arrest (and potential deportation procedures) is any shred of common sense, practicality, and compassion.
Avelica-Gonzalez is just one of many undocumented immigrants who are the latest victims of the Administration's bullying tactics. Despite promises to focus deportation efforts on convicted criminals, Number 45 and his comrades seem hell bent on terrifying immigrants and taking a hardline approach to deportation, regardless of criminal record, how long they have been in the country, and whether they came to the U.S. as a child. In fact, just last week, Daniela Vargas – a 22-year-old DREAMER – was arrested after sharing her family's story at a news conference in Mississippi. Vargas was brought to the U.S. illegally as a child, but under the Deferred Action for Childhood Arrivals program (DACA), she was granted temporary exemption from deportation. DACA recipients, such as Vargas, are often referred to as DREAMERs because they would have been given permanent legal status under the Dream Act if that law been approved by Congress.
Fortunately, there are still people looking out for each other and helping those in need. After Avelica-Gonzalez's arrest, Ricardo Mireles – the executive director of the Highland Park charter school Academia Avance – gathered people to support the family.
"I think the impacts are going to come in terms of, 'Hey, how do we pay the rent? And how do we move forward?'" Mireles said. "We want to be able to find resources to help this family go through this process."
Houses of worship are also taking steps to provide sanctuary to undocumented immigrants, and school districts around the country are going to great lengths to reassure their communities that they are committed to protecting students' and their families.
"It's really hard what we're going through," Avelica-Gonzalez's daughter Brenda said. "I never thought we'd actually go through something like this. It's terrible to feel and see your family being broken apart."