Ice Cream Stuffed Doughnuts Exist, This Is Not A Drill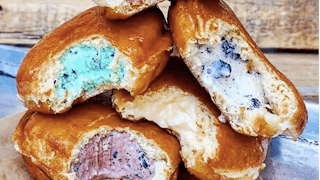 Ice cream filled doughnuts are the summer treat we didn't even know we needed
Doughnuts are pretty damn near the perfect sweet treat. They're gooey and sugary and loaded with delicious, delicious carbs. There's only one thing that's not to love about a doughnut: They're best served warm, and on a hot summer day, ain't nobody about that life.
That's a problem that's easy enough to solve, and one pastry shop in the Los Angeles area is spearheading all efforts to make doughnuts a summer-friendly treat. B Sweet, a dessert bar with two locations in LA, is using Instagram to get us all drooling over their new, summer-ready ice cream filled doughnuts. Yes, you read that right. They are hot doughnuts with cold ice cream in the middle. Just as temperatures were getting too hot to handle, summer has become our favorite season again.
"Which #Halo are you going to get?! A scoop of your favorite #icecream heat-sealed inside our fresh glazed donut!!! Hot on the outside, cold on the inside and yummy allover!" the shop wrote alongside a photo of a stack of drool-worthy doughnuts stuffed with three different colored and different flavored ice creams. They call the treats Halos, which is the perfect name for a food that's as angelic as they come, TBH.
B Sweet's menu describes the Halo as a "hot pressed glazed donut ice cream sandwich," and each one is made to order and customizable with whatever ice cream flavor you want (at least, out of the ones the have on hand, and if Instagram is any indication, there's a healthy variety available).
For the many, many of us who don't live in LA and don't have access to these beautiful, perfect treats, there's still hope. Apparently, ice cream filled doughnuts aren't a new concept, and Instagram is full of photos of the same treats from other shops all over the country.
There's Vicky's Donuts in London:
Cookie Monster Ice Cream in the San Diego suburbs:
https://www.instagram.com/p/BSVDwSuAMaN/
And Five Daughters Bakery outside Nashville:
Happy summer, y'all!
H/T: Refinery 29
This article was originally published on