The Ice Cream Truck Is Coming. Go Ahead, Give 'Em A Childhood.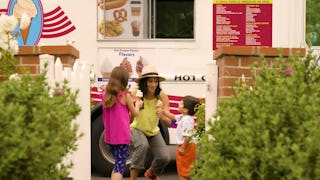 You hear it, in the distance — the chimes of the ice cream truck — and you know it's about to go down. Brace yourself and be prepared to handle the money, the sun, and the mess. It's time to get Momsplained on how to deal with the ice cream truck.
GET YOUR FUN ON WITH BANANA BOAT® – ANY TIME, ANYWHERE.
Banana Boat® believes that you and your family should never stop playing in the sun! That's why our products are tested to stay on in sun, pool water, ocean water, wind, sweat, sand, and extreme heat — to provide safe and effective broad spectrum UVA and UVB protection for your skin.*
This article was originally published on