ICE Detains Husband Driving Pregnant Wife To Hospital To Deliver Their Baby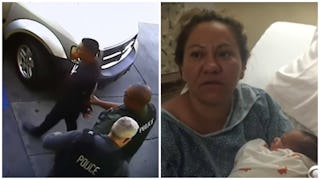 Image via YouTube/CBS LA
ICE captured the man while he and his wife were getting gas on his way to the hospital
Immigration and Customs Enforcement (ICE) detained a California man this week while he was driving his pregnant wife to the hospital to deliver their baby, where she eventually gave birth to the couples' son alone.
Maria del Carmen Venegas was heading to the hospital to have a planned C-section when they stopped at a gas station on the way to fill up their car. That's when their car was approached by ICE agents who surrounded their car and asked for identification. While Venegas was able to produce proper paperwork, her husband, Joel Arrona-Lara, was not.
According to reports, the couple offered to retrieve his paperwork from their home nearby, but ICE officers took Arrona-Lara into custody instead. As you can see from video footage, a visibly upset Venegas was left alone in the gas station and eventually drove herself to the hospital where she gave birth to their son.
We've all seen and heard stories about the horrific separation of kids and their families seeking asylum in the U.S. and the heartbreaking personal accounts of what these individuals have gone through. Just when you think you can't possibly be shocked by another awful situation, a story like Venegas' comes along to remind you how far this administration will sink to maintain their "zero tolerance" policy.
"I feel very bad right now," Venegas tells CBS2 News. "My husband needs to be here. He had to wait for his son for so long, and someone just took him away."
An ICE representative confirms the detention in a statement to HuffPost and said Arrona-Lara is a Mexican citizen living in the United States without documentation. ICE stated that the Executive Office for Immigration Review has begun removal proceedings.
"ICE continues to focus its enforcement resources on individuals who pose a threat to national security, public safety and border security," the agency says in a statement. "ICE conducts targeted immigration enforcement in compliance with federal law and agency policy. However, ICE will no longer exempt classes or categories of removable aliens from potential enforcement. All of those in violation of the immigration laws may be subject to immigration arrest, detention and, if found removable by final order, removal from the United States."
Over the weekend, ICE updated their statement on the new father, saying "Mr. Arrona-Lara was brought to ICE's attention due to an outstanding warrant issued for his arrest in Mexico on homicide charges," the agency statement said. However, his defense team tells ABC News the "allegations of a warrant in Mexico are unconfirmed and that they will seek bail for him as he has no criminal record in the U.S." His family denies these allegations as well.
"It is very hard because he was always there," Venegas says. "And he would say everything will be OK and not to worry, that we will meet the baby. And for me to be alone it feels brutal."