A Prison Guard Drove A Truck Through A Group Of Ice Protesters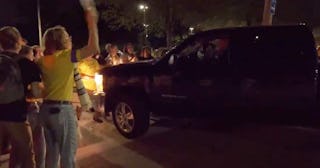 Never Again Action/Twitter
An ICE Guard drove his truck into protestors outside an ICE detention center in Rhode Island
For several weeks now, Never Again Action — a Jewish activist group — has been shutting down ICE detention centers across the country. On Wednesday, August 14, Never Again Action, along with hundreds of protestors and immigrant ally groups, formed a human barricade outside the Wyatt ICE Detention Center in Rhode Island when an ICE guard drove straight into them with his truck.
Wyatt Detention Center is actually a private prison in Rhode Island but is now being used to hold migrants arrested by ICE at the border. The protestors sent a letter to the detention center demanding transparency about the conditions inside the prison, but when their request went unanswered, they lined up outside the center in an attempt to "shut down their facility."
"We will not allow business as usual to continue: no more roundups, no more cages, simple as that," the group tweeted last night.
"RI State Police have just arrived to try to clear our protest, to allow the ICE Detention Center to continue business as usual," they added. "30+ of us are risking arrest, 200 more are supporting as we prevent guards from arriving for the night shift."
The protestors continued to form a human wall outside the center and that's when a truck the protestors say was driven by an ICE guard drove straight into their human barricade.
"An ICE Detention Center guard just drove their truck straight through a line of us sitting peacefully to block the parking lot," they tweeted.
"Tonight we experienced a tiny sample of the violence ICE uses on our immigrant neighbors every day," the protestors added.
Wyatt Detention Center guards then began to pepper spray the protestors who also claimed that the Rhode Island State Police "just stood by and did nothing as we were run over and then sprayed by detention center guards."
https://twitter.com/jetpack/status/1161817727775977472
Nobody faced life-threatening injuries, but Never Again Action noted that five people were hospitalized — three for severe pepper spray exposure and two after being hit by the truck.
The Rhode Island Office of the Attorney General released a statement that they are "investigating what transpired last night at the Wyatt Detention Center in Central Falls. Once we have a full understanding of the relevant facts, we will determine how to proceed. Peaceful protest is a fundamental right of all Americans; it is unfortunate last night's situation unfolded as it did. We urge all to exercise restraint as our investigation proceeds."
Never Again Action promised to return to the detention center with this rallying cry: "We're putting our bodies on the line because we see the camps and the roundups. We've learned from our ancestors: NEVER AGAIN FOR ANYONE."
This article was originally published on