ICE Is Launching Nationwide Raids on 2,000 Immigrant Families Starting This Weekend
by Leah Groth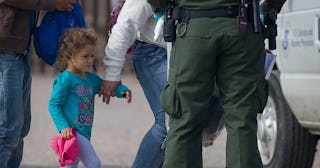 Image Joe Raedle/Getty Images
The latest attack on immigration is going to impact many families
The ongoing immigration crisis is truly breaking our hearts. From the horrific reports about nausea-inducing living situations at border facilities and people dying in custody to children being separated from their parents, it seems like every day there is a new disturbing development courtesy of our government.
Brace yourself for another blow: According to sources close to the US Immigration and Customs Enforcement (ICE), officers are planning to conduct a multi-day raid starting this weekend targeting immigrant families all over the country.
BuzzFeed News reports that ICE officers will begin the roundup on Sunday in several US cities. Their efforts will be focused on families who have been issued final removal order due to failure to appear in court, something formally termed as "in absentia."
On Monday night, Donald Trump tweeted about the upcoming deportation but failed to offer any details.
"If you're here illegally, then you should be removed," Mark Morgan, the acting head of Immigration and Customs Enforcement told reporters during a call earlier this week "And in this case, that includes families."
In February, ICE sent about 2,000 letters to families who had received final removal orders to report to local ICE offices by March. According to Morgan, ICE has been working closely with the Department of Justice on the family expedited docket but the "results were very disappointing," as some families haven't attended their immigration hearings. "They're going through a thorough due process as part of the immigration process, they're just refusing to show up," he stated. He believes that unless these families are removed, that that immigrant families will continue coming to the United States without fear of consequence.
However, not all government officials believe that this situation is being handled adequately. Some point out that said immigrants weren't really given a proper timeframe to defend themselves, which resulted in them failing to appear. "Scheduling these cases too rapidly increases the in absentia rates, as people don't have time to find help from pro bono organizations or attorneys and are fearful of appearing alone," one Justice Department official told BuzzFeed. "It also increases the possibility of errors on notice."
"It's a gross generalization," another DOJ official said. "There are a lot of reasons why someone might miss a hearing. Notice issues, 'exceptional circumstances,' etc. To say that people are just skipping out is not appropriate."
This article was originally published on