ICE Can Now Detain Pregnant Women, Thanks To Trump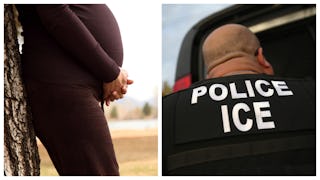 Image via Getty/John Moore/Kameleon007
Pregnant women used to be automatically released by ICE — not anymore
In the latest development from the Administration Of Endless Awful News, Immigration and Customs Enforcement (ICE) can now confine pregnant women in their detention centers — all thanks to an executive order signed by President Trump. Because of course it was.
Previously, ICE automatically released pregnant women from detention. Now, pregnant women will only be released on a case-by-case basis determined by an ICE officer. Detention for pregnant women is not only barbaric and outrageously unfair, it's fucking dangerous. Pregnant women who are detained are more likely to miscarry — and thanks to this new policy, more pregnant women will spend time in detention.
https://twitter.com/jetpack/status/979384798278897665https://twitter.com/jetpack/status/979389246023770113
How exactly does detaining pregnant women make our country any safer? It's an extremely brutish way of handling undocumented immigrants.
"We are no longer exempting any individual from being subject to the law," Philip Miller, deputy executive associate director of ICE, said during a press conference call. He says that as of March 20, there are 35 pregnant women in ICE custody. Those who are in their third trimester of pregnancy aren't detained by ICE, because they aren't considered "flight risks."
How generous.
Could you imagine being pregnant in a detention center? A 2015 report by the National Immigration Justice Center documented abuses and an "inability to provide for the safety and health of the tens of thousands of immigrants in its custody."
What an inhumane way to treat terrified pregnant women, who are often alone in detention.
Where are all the pro-lifers on this issue? Surely they'll come out in droves to protect the lives of all the unborn children suffering through barbaric conditions in detention centers all across the good ol' US of A?
"This is concerning to us because we've seen how problematic conditions can be in custody for anyone, but especially for pregnant women," Michelle Brané, director of the Migrant Rights and Justice Program with the Women's Refugee Commission, told Splinter. Detention centers are heavily populated with lots of different people — prime breeding ground for various illnesses, which just presents a further risk to pregnant women.
This new executive order is just another example of Trump and his administration exerting power over women and their bodies. It's cruel, it doesn't do anything to improve the safety of our country in any way, and beyond all of that — it's fucking heartbreaking. Bottom line: protecting the lives of pregnant, undocumented immigrants and shouldn't be a partisan issue. Period.