Mississippi ICE Raid Separates Breastfeeding Mom From 4-Month-Old Daughter
by Julie Scagell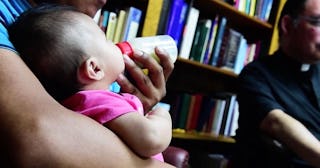 Clarion Ledger
An ICE raid ended in a mom being kept from her nursing infant
We've all heard the heartbreaking stories about families being separated at the border and the horrific conditions in the already overcrowded detention centers across the U.S. With the mass raid by Immigration and Customs Enforcement officers at Mississippi food-processing plants earlier this month resulting in 680 people being taken into custody, one story is emerging about a mom that was arrested leaving at home a four-month-old-baby who was still breastfeeding.
The mom, who was arrested at Koch Foods where she'd been working for four years, is currently being held in a Louisiana facility, away from her infant and two other children. Her husband is taking care of them while working and waiting to hear whether his wife will be deported. He, too, faces deportation from an earlier arrest but his hearing isn't until 2021, the Clarion Ledger reported.
The baby girl had been breastfeeding up until her mother's arrest, creating just one more gut-wrenching effect from her detainment. The father told the paper he'd only spoken to his wife once because she doesn't have money for calls. "I will take care of the children and I will find out how the lawyers could help … so don't worry," he told her. "You are not alone."
This latest raid again exposed the major gaps in ICE procedures when it comes to handling children and the repercussions the arrests have on the kids, many of whom are American citizens (as are this couple's two older kids), at home. The surprise raid left many waiting at schools, daycares, and after-school activities with no one to pick them up.
The day following the raid, more than 200 students were missing from school, missing students, yet another outcome of their parents being taken from them with no notice as their worlds were turned upside down in the blink of an eye. "The population affected has pulled back," the superintendent of the Scott County School District, told Buzzfeed News. "It has been tough for our teachers and all of our administrators. We love our kids. They are our kids. When you see kids hurting, you hurt, like when it's your own children at home."
She "had this lost look," Dalila Reynoso, an advocate with Justice For Our Neighbors, told the newspaper after visiting the mom-of-three where she is being held. "She hasn't seen her children. She doesn't know what tomorrow will bring," adding, "Why do we have a mother in a detention center with a baby that's 4 months old and who is breastfeeding?"
Rep. Bennie Thompson (D-Miss.), head of the House Homeland Security Committee, lashed out at ICE chief Matthew Albence for mishandling the raid, calling it "another form of family separation" that President Trump has clearly intended by his actions when it comes to his handling of immigration. He also called the "chaos" of the raids for children outrageous and "unacceptable."