In Iceland, It's Now Illegal To Pay Women Less Than Men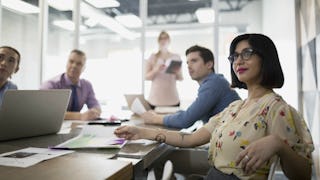 Image via Hero Images / Getty Images
Listen up, world: It's time for pay inequity to be illegal everywhere
Iceland now has a law that makes it illegal to pay men more than women for the same job. That noise you hear? That's women all over the world cheering because finally this is happening somewhere.
According to Al Jazeera, the legislation went into effect Monday, the first of the new year. Companies in Iceland that employ 25 or more people will now have to submit payment information to the government to have their pay equity certified as fair, which means there's no way around this law. Companies that don't comply will have to pay fines.
"The legislation is basically a mechanism that companies and organisations … evaluate every job that's being done, and then they get a certification after they confirm the process if they are paying men and women equally," Dagny Osk Aradottir Pind, a board member of the Icelandic Women's Rights Association, told Al Jazeera. "It's a mechanism to ensure women and men are being paid equally. We have had legislation saying that pay should be equal for men and women for decades now but we still have a pay gap."
Many other countries also have legislation that says pay should be equal for men and women doing the same job, but Iceland is now the only country in the world that requires companies to prove that they're following the rules. The U.S. has had an Equal Pay Act in place since 1963, but it puts the burden of proof on the woman who is receiving unfair pay; first she has to find out that she's making less than a man in her position, and then she has to sue her company if she wants it to face any repercussions.
I think we can all agree that Iceland's law is going to be a little bit more effective.
Iceland already leads the world in pay equity between men and women, according to the World Economic Forum's Global Gender Gap Report, and this move will likely only give the North Atlantic island nation an even bigger lead over the rest of the world when it comes to treating men and women equally at work. Iceland has been at the top of the list for the last nine years. By contrast, in the 2017 report, the U.S. came in 49th, behind countries like Nicaragua, Mozambique, South Africa, Cuba and Colombia. The U.K. is 15th, and Canada is 16th.
Needless to say, there's still a lot of work to be done. But if Iceland can do it, other countries can follow suit, and it's far past time for women to be guaranteed equal pay for equal work.