Idaho Senator Shouts Down Students Who Came To Talk Reproductive Rights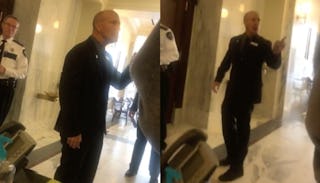 Image via Facebook/Ashley Ayala
This isn't the first time Sen. Dan Foreman has come under fire for losing his temper with constituents
Covering state politics in deeply red Idaho can be a wild ride. Just about every legislative session produces something that makes national headlines, like when lawmakers refused to attend the daily Senate invocation because a Hindu prayer was offered, or when a representative asked during a committee hearing if women could have less invasive trans-vaginal ultrasounds performed by swallowing a tiny camera (no, the mouth is not in any way connected to the vagina).
2018 is no exception. Idaho, which is a pretty unassuming state 46 weeks out of the year, is smack in the middle of its yearly legislative session, and just made national headlines again.
This time, it's state Senator Dan Foreman, a Republican from the northern college town of Moscow, who is at the center of the controversy. A dozen University of Idaho students made the seven-hour drive to the state capitol of Boise for a scheduled meeting with Foreman to encourage him to vote for a bill that would deliver comprehensive sex education in Idaho schools and give women better access to birth control.
When the students arrived, however, they found that Foreman had abruptly canceled their meeting and was not in his office. The group left a note on Foreman's door, and continued with scheduled meetings with other lawmakers.
However, later in the day, the group ran into Foreman in a hallway, where he screamed at them about the note and their affiliation with Planned Parenthood. They recorded him on a phone as he screamed that abortion is murder and threatened to call the police if they came near his office again.
The video started to spread online, and, for good reason, people are pretty appalled by the Senator's behavior.
https://twitter.com/jetpack/status/965737501708046337
In response to the criticism, Foreman went on a pretty explosive Twitter rant, writing, "Go talk about killing babies with Maryann Jordan." Jordan is a fellow senator, a Democrat from Boise. She has since filed an ethics complaint against Foreman, who has deleted his entire Twitter account.
This isn't the first time that Foreman has been recorded having an outburst after disagreeing with a constituent. According to the Moscow-Pullman Daily News, Foreman was approached by a constituent during last year's Latah County Fair. He was caught on video calling the constituent a "liberal nuttard" and telling him, "Go straight to hell, you son of a bitch."
These students are just the latest young people to step up and demand that lawmakers actually start doing some work to make this country a better place, like the teens who are organizing a march for gun control, and the ones who organized a lie-in at the White House this morning.
Luckily, these kids are our future — and it looks a lot brighter than the world we live in now.