Poop: The Game. Yes, It's A Real Thing. Plus, Other Ideas For Family Game Night.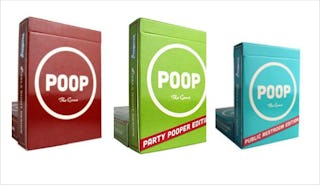 Is family game night still a thing? It totally should be. I know it is one of those things where parents are typically divided into the "this is torture" or "this is my favorite night of the week!" camp, but I think I might be able to help. Maybe.
I can't imagine not laughing while you play Poop. I mean, you take turns going poop and try not to clog the toilet. It's like a grosser version of Uno, and if your kids are anything like mine, potty humor is always a huge win. (Bonus: They are only 10 bucks.)
If you love this, you should also try the party version and the public restroom edition. I literally can't stop laughing.
If Poop is a little too much, try this Watch Ya' Mouth game. It's the family friendly edition of the popular Speak Out mouth guard game. This version is recommended for ages 8+, but even the younger ones get a huge kick out of this.
This game is quite literally fun for all ages. Our preschooler can play with a little help, and they always ask to take this out when I shout, "No more screen time!" so it's definitely a win.
One more that the little kids, big kids, and (probably) the parents can enjoy. It's kind of like Jenga, but your goal is to not the be that guy that makes Humpty Dumpty have a great fall.
I can't promise there won't be tears, whining, and overall poor sportsmanship while playing, because there's always a little of that when you combine family and competition, but I can promise most of these are good for at least a few good laughs together. And I will call that a win.
Editors may receive samples and/or a share from purchases made via links on this page.