People Finally Picks A 'Sexiest Man Alive' No One Can Argue With
by Valerie Williams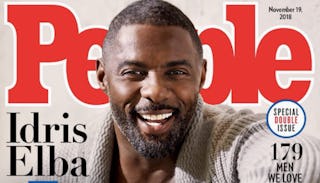 Image via PEOPLE Magazine
This year's Sexiest Man Alive is one we can all agree on
Today, PEOPLE Magazine has made official something that most of us have long known — Idris Elba is the Sexiest Man Alive.
Honestly, can we just stop picking new ones? Can't 2018's winner just grace their annual Sexiest Man Alive cover every year? Look. At. Him.
And in case you weren't already drooling all over the place, Elba used his huge moment to remind people to vote.
"Who'd have thought it! Thank you @people & all the fans for naming me #SexiestManAlive. Don't forget to grab your issue this week. I'm honoured & thankful. What's even more important is your vote in the midterm elections. Your vote can make a difference!"
Who'd have thought it? You mean besides literally everyone on earth who's attracted to men?
When asked about his reaction to the exciting news, Elba tells PEOPLE, "I was like, 'Come on, no way. Really?' Looked in the mirror, I checked myself out. I was like, 'Yeah, you are kind of sexy today.' But to be honest, it was just a nice feeling. It was a nice surprise — an ego boost for sure."
Just to drive home the amazing decision the magazine made, Elba appeared in an interview to remind all of us why he's deserving of this title for life. BRB, happy-sighing for the literal rest of our lives.
To be clear, the entire world isn't just drooling over Elba's otherworldly good looks. The man is beyond talented and holds a number of impressive titles including: actor, pro kickboxer, deejay, rapper and clothing designer. Oh, and Sexiest Man Alive.
Basically everyone agreed this was the best decision of the entire year.
Yes, it seems everyone's feeling very forgiving over last year's, um, controversial choice, Blake Shelton.
This year has largely been a flaming dumpster fire on wheels, so at least this is a nice thing we can all agree on.