Idris Elba Is Engaged And Women Of The Internet Are Devastated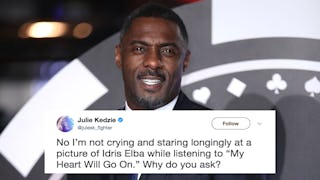 Image via Mike Marsland/WireImage/Twitter
Idris Elba is engaged — but not to any of us, sadly
It doesn't matter how old you are, or what your sense of reality is like — when a celebrity crush gets engaged, you feel a small corner of your heart crack just a bit. Unless that celebrity crush is Idris Elba. Because if Twitter is any indication, hearts everywhere are just completely shattering.
Elba propsed to his longtime girlfriend, Sabrina Dhowre, before a screening of a movie where he made his directorial debut. The sweet moment was caught on camera and shared on Twitter by agent David Marsden-Sainou, resulting in the destroyed hopes and dreams of women everywhere.
Elba and Dhowre first fell in love while he was filming The Mountain Between Us in Canada with Kate Winslet. Dhowre is a former Miss Vancouver — and is absolutely stunning, much like her new fiancé.
But that matters not to women of the internet, who are nursing broken hearts over the news.
HA. Yes, that is suspicious indeed. All of our fingers are sadly bereft of Idris Elba-approved jewelry this morning.
If Leonardo DiCaprio (who is probably more problematic than I care to admit) ever gets engaged, this will be me. Even though I am married, live in Pennsylvania, and am a dozen years older than literally all of his romantic partners.
LOL. Sorry my dude, he is just literally the physical embodiment of everything we could ever want in a man, nbd.
The Mountain Between Us is the story of a man and woman who get stranded in the wilderness after a plane crash. While Elba has typically kept his private life private, he recently opened up to PEOPLE about Dhowre. "Falling in love while making a movie about falling in love is pretty special."
He even brought Dhowre to the film's premiere last year.
Best wishes to the world's most beautiful couple — even if most of us are spending this Sunday gluing the shattered remains of our hearts back together.