Idris Elba Got Married And The Internet Isn't Handling It Very Well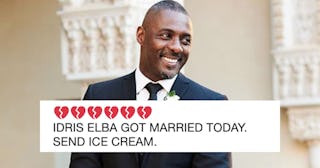 Instagram/British Vogue/Twitter
Congratulations on getting married Idris Elba – love, all of your sobbing, devastated fans
For the record, we're all very happy that Idris Elba found happiness with Sabrina Dhowre and got married in Morocco this past Friday. Off the record, none of us are handling the news very well. Twitter turned into a very loud, very vocal sobfest over the fact that their favorite celebrity boyfriend was officially a married man. Bring on all the tissues and pints of Ben&Jerry's – it's about to get real.
First things first: the nuptials. Elba and Dhowre got married during a three-day celebration which involved a beautiful wedding, an all-white dress party, and a rehearsal dinner featuring a "huge festive party with camels and fire dancers and dancing," according to PEOPLE.
I mean, just look at this happy guy. *Sob.*
The entire wedding looked like it was an absolute blast, can't deny that. (That black and white photo, tho. OMG.)
So, that's all lovely and wonderful. But once the news broke online, Elba fans had a slight meltdown on Twitter.
Not to pour salt on this very tender wound, but the couple looked extremely cute together. And his bride, who is not any of us, is absolutely stunning.
Elba proposed to Dhowre at a screening for his film Yardie back in February 2018. "It was a little spontaneous if I'm honest," he told PEOPLE. "I was at a cast and crew screening and among people I loved. We had all worked so hard for this project so I was like I'm doing it right now, here, today."
Elba added that he knew that Dhowre was the right person for him because they have good chemistry. "She makes me laugh and we share common goals. She makes me happy," he said. "She makes me celebrate my successes and when I'm not too sure about stuff, she makes me think."
https://www.instagram.com/p/Bwgup8TBCxx/
https://www.instagram.com/p/BjCOwIhBYG3/
This is a really raw period for Idris Elba fans. We'll respect your privacy during this difficult time.