Idris Elba Tests Positive For Coronavirus: 'I Didn't Have Any Symptoms'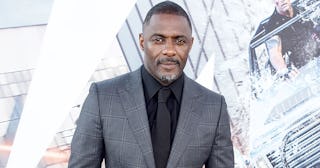 Gregg DeGuire/Getty
Elba was showing no symptoms before testing positive
Luther actor Idris Elba said in a tweet Monday that he has tested positive for COVID-19 after being exposed to someone who tested positive for the virus last week.
"I have no symptoms so far but have been isolated since I found out about my possible exposure to the virus," Elba said in a video tweet today. "Stay home people and be pragmatic. I will keep you updated on how I'm doing."
The actor said he wasn't showing symptoms but was exposed to someone who had tested positive on Friday so he self-quarantined until he could get his results. Elba follows other celebs like Tom Hanks, Rita Wilson, and former Bond girl Olga Kurylenko, who have also tested positive. Elba lives in London, England.
Prime Minister Boris Johnson said Monday that Brits need to stop non-essential social contact and avoid clubs, pubs, theaters, and all unnecessary travel as the coronavirus outbreak accelerates, even telling its citizens over 70 or who have underlying health conditions to self-quarantine for four months. "It looks as though we are now approaching the fast growth part of the upward curve, and without drastic action cases could double every five or six days," Johnson said.
"Look, this is serious," Elba said, appearing next to his wife, Sabrina, in a video posted to social media (she has not been tested but is "feeling ok"). "Now is the time to really think about social distancing, washing your hands. We live in a divided world right now – we can all feel it," he added. "It's been bullshit. But now is the time for solidarity, now is the time for thinking about each other."
Prime Minister Johnson also said anyone with symptoms of the coronavirus should isolate themselves along with their entire household for 14 days and should work from home if they are able. "We need people to start working from home where they possibly can," Johnson said.
As of today, almost 180,000 people globally have tested positive for the virus and 7074 have died as a result. As our country comes to terms with the delays in testing that will likely cause mass spreading of the virus and people who are actually severely ill are being denied tests is horrifying. The fact that Idris Elba got one immediately with no symptoms is completely infuriating.
"Beyond that, there are people out there showing no symptoms," Elba said. "Yeah, and it sucks."
Information about COVID-19 is rapidly changing, and Scary Mommy is committed to providing the most recent data in our coverage. With news being updated so frequently, some of the information in this story may have changed after publication. For this reason, we are encouraging readers to use online resources from local public health departments, the Centers for Disease Control, and the World Health Organization to remain as informed as possible.