If CVS Can Stop Selling Cigarettes, Then These Stores Can Stop Selling Guns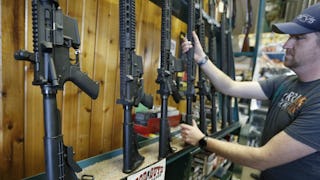 George Frey / Stringer / Getty
Every single one of us should feel deeply disturbed by our country's sick gun problem. For years, we've been waiting for Congress to act. We've called upon our leaders to enact comprehensive laws that would better protect our kids and families from preventable gun violence. Countless mass shootings later, we're still waiting.
While we continue to urge Congress to act, there are ways that everyday Americans can help make guns less accessible, right now. Here are two strategies that don't require congressional approval and can begin today:
1. Move the Market
Follow the environmental health movement's lead and unite everyday consumers to diminish the presence and influence of guns. Let's urge Everytown for Gun Safety to launch a market campaign targeting retailers that promote, advertise and sell guns. Let's demand that Walmart, Big 5, Cabela's, Bass Pro Shops, and Dick's Sporting Goods stop selling guns. Let's demand that they prioritize our kids over their bottom lines by being part of the solution rather than contributing to the problem.
Let's make retailers want to be on the right side of this problem. For example, Target stopped selling tobacco products in 1996. In 2014, CVS stopped selling cigarettes "because it conflicted with their purpose of helping people on their path to better health." Let's put pressure on the market so that retailers who eliminate guns from their shelves are praised as strategic and competitive.
2. Start Local
Organize the sensible voices in your community and reach out to your city council. Work to eliminate the promotion, advertisement, sale and purchase of guns within your city. Strive to deglamorize guns, and make them less accessible, less convenient, less ubiquitous. Connect with your school board, legislators, teachers, local businesses, and high school students to find ways to effect change locally.
If cities can legislate single-use plastic bags and styrofoam, then we surely must have the ability to legislate guns. If we can regulate and restrict the advertisement of tobacco, then we must demand the ability to do the same for guns. Let's urge our local newspapers and media to eliminate their promotion and advertisements of guns. This isn't a new concept as many newspapers stopped accepting tobacco advertising years ago.
I have a kindergartener and a preschooler, and every weekday I worry about them being murdered at school. How in the world have we come to accept this as a normal concern of parenthood?
Sadly, I know what it's like to lose a child. My 11-month old son died in my arms in 2012. I cannot stand by while more and more families lose their children to preventable gun violence.
We are not powerless. Let's speak up, move the market, and get involved in our communities. Boycott retailers that sell and promote guns. Join the marches. Donate to Everytown for Gun Safety. If you're a gun owner, keep your guns away from angry men and join the call for common sense laws to prevent gun violence. We have waited long enough. It is now time for every one of us to act.