#IfIDieInASchoolShooting Is Trending Because We've Let Teenagers Down So Bad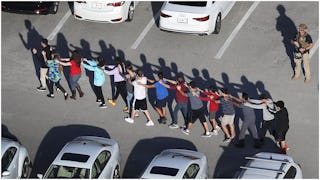 Image via Joe Raedle/Getty
#IfIDieInASchoolShooting is trending, and the world is feeling like an even more bleak place
We're only five months into 2018, and there have already been 22 school shootings this year alone. CNN figured out that that averages to one school shooting a week, which is beyond horrendous. Since this nightmare has become so much more common, students are taking to Twitter with the hashtag #IfIDieInASchoolShooting, and their posts are completely heartbreaking.
The gutwrenching hashtag can be traced back to 18-year-old college freshman Andrew Schneidawind. He told Teen Vogue that the Parkland school shooting, which killed 17 people, had a huge impact on him — and he decided that he needed to take action. Because, you know, people in power are clearly doing nothing.
"I cried for four hours the day that it happened," he explained. "I was sad, and then I got angry. I thought, now is the time for me to step up. Now is the time for me to do something." Schneidawind decided to start the hashtag #IfIDieInASchoolShooting, and plans to mail all the tweets to lawmakers who are against gun regulation.
Responses to Schneidawind's hashtag will break your heart into one million pieces. Some kids talked about everything they'd be leaving behind and all the goals they'd never get to meet.
Others demanded that their deaths be politicized. No thoughts and prayers and time to heal messages. They want action.
And they had some choice words for the NRA and politicians who are literally just standing idly by.
Meanwhile, adults were looking on completely horrified by what their children are dealing with.
Schneidawind later took to Twitter and gave a big shout-out to everyone who helped boost his message. He also put out an important call-to-action for anyone who wants to make a difference.
"Thanks to everyone with the #IfIDieInASchoolShooting trending," he wrote. "If you wanna further help, take your tweets and mail them to your representatives. Send them politicians who take money from the NRA. Visit their offices and tell them yourself. This might actually work!"
You're welcome in advance for all the mail, Marco Rubio.
This article was originally published on