IHOP Changes Its Name To IHOB And Burger King Trolls Them In The Best Way
by Valerie Williams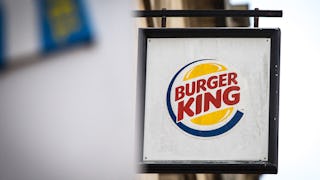 Image via Matt Cardy/Getty Images
Burger King and other fast food chains are hilariously trolling IHOP
IHOP made a huge announcement yesterday that got the internet buzzing. They're now called IHOB — as in, International House of Burgers. We know, it's a lot to take in. But while people freaked out over this sudden change and what it all means for their favorite purveyor of pancakes, fast food chains had a complete blast trolling the shit out of them. Possibly best of all was the jab taken by Burger King.
Because you don't mess with the King.
While other fast food joints got in on the razzing of the restaurant formally known as IHOP, Burger King initially remained totally silent. That is, until they quietly revealed their new logo.
Yup. They went there. They also changed their cover photo to something a little more on-brand with the new logo.
Oh, and they updated their Twitter account.
Burger King's only statement on the situation so far is a petty one, and we're living for it.
But Burger King (*cough cough* Pancake King) wasn't the only fast food chain to get in on the fun. Wendy's, perpetual social media darling, took one of the first jabs — and arguably, one of the best.
They also came out with this absolutely devastating burn.
Waffle House got in on the action because yes, their menu includes burgers — but they still stay firmly in their lane.
Get after it, White Castle.
Naturally, Chili's response is spicy AF.
And not to be left out of this food-related burn fest, Netflix weighed in with their own snarky one-liner.
Any chain truly concerned that IHOP is honing in on their territory shouldn't be — according to Forbes, the name switcheroo was just a marketing gimmick to introduce IHOP's new line of Ultimate Steakburgers, a move intended to help the chain move beyond the breakfast category. But anything that causes this kind of joyous social media uproar is something I heartily support, because in these trying times, everyone can use the laugh.
This article was originally published on