IHOP Rolls Out 'Elf On The Shelf'-Inspired Menu Just In Time For The Holidays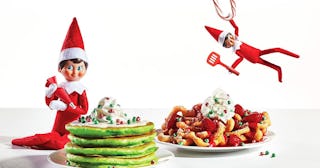 IHOP
IHOP's new 'Elf on the Shelf' menu looks as delicious as it sounds
Now that Halloween is in the rearview mirror, it's time to look towards the holidays — no, not Thanksgiving, the one with Santa, silly. Since the introduction of the "Elf on the Shelf" book in 2005 written by Carol Aebersold and her daughter Chanda Bell, it seems the holidays are synonymous with the little elf we all love to hate, and IHOP is getting in on the action.
The breakfast chain just released an Elf on the Shelf Holiday Menu which means we can start bribing our kids to be good even earlier than normal this year without the hassle of moving the damn thing every single night. The menu features Elf-themed Jolly Cakes, a Holiday Ham and Sausage Omelette, Oh What Funnel Cakes, Merry Marshmallow Hot Chocolate, and a Little Elves Combo for little kids and big kids at heart.
But wait, there's more.
Adults who order one adult entrée can get one free kids' menu entrée for children 12 and under every day from 4 p.m. to 10 p.m. until January 1 (in stores only). That's a whole lot of holiday magic if I do say so myself.
According to the IHOP website, the "Jolly Cakes" consist of four bright-green pancakes topped with a sweet cream cheese icing, whipped cream, and red and green sprinkles in the shape of Christmas tree ornaments. Forget the kids — come to mama. The "Oh What Funnel Cakes" are just that — state fair-style funnel cakes lightly dusted with powdered sugar. But IHOP goes one step further and tops them with glazed strawberries, whipped cream, and more elf sprinkles. Praise be.
The Holiday Ham and Sausage Omelette has fire-roasted peppers and onions, jack and cheddar cheeses, and if that's not enough cheese, it's also smothered with a cheddar cheese sauce and served with a side of hashbrowns with a choice of another side. You may not think that adding the word "holiday" in front of a menu item changes things, but it does. Just trust me.
After dinner, the restaurant chain is offering families an all-new animated special featuring Santa, Mrs. Claus, a cast of Scout Elves, and a pack of arctic fox cubs in a new movie you can purchase on their website called Elf Pets: A Fox Cub's Christmas Tale for just under $10.
IHOP is always a company we can count on to get into the holiday spirit. For Halloween, they featured a special Addams Family menu and last holiday season they wowed customers with a Grinch-inspired menu. It's a fun place to take the kids and celebrate everything the holidays have to offer.
"We're so excited to ring in the holidays by announcing a partnership between IHOP and The Elf on the Shelf, two beloved, family brands," said Alisa Gmelich, IHOP vice president of marketing, in a statement. We're here for it.
This article was originally published on