IHOP Is Selling Huge Pancake 'Pizzas' All Weekend And Your Kids Are Gonna Flip
by Julie Scagell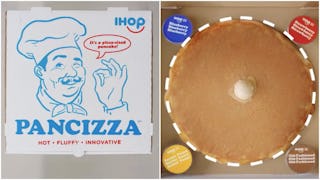 Image via Twitter/IHOP
National Pizza Day is right around the corner and we all know when you think of pizza, you naturally think IHOP. Except that's the last thing you'd think of when considering our nation's pancake haven. That is — until now.
In honor of National Pizza Day (which is Feb. 9 for those who need a pizza education), IHOP will be selling pancake pizzas. These ginormous pancakes will come in three varieties: there's the standard buttermilk, and if you're feeling particularly sassy, bacon and cheddar or cupcake flavor.
"We took our famous buttermilk pancakes, made them bigger, gave them some toppings, sliced them up, and put them in a pizza box for National Pizza Day," the restaurant chain posted on their website. "Try one—it'll blow your mouth's mind."
It makes sense that the place that brought us Banana and Nutella Crepes and then devoted an entire section of their menu to The Grinch would think outside the box for National Pizza Day. Though they are serving them in a box, but that's neither here nor there.
IHOP is calling these little gifts "Pancizza" — like Brangelina or Kimye, if they came in carb form with dipping sauces. The only catch is you have to order them through DoorDash for pickup or delivery. Not that it should dissuade you, who wouldn't want a giant pizza-sized pancake showing up at their door? Breakfast and lunch — check.
They even caught the attention of Pizza Hut, who used their company tagline to comment on the promotion.
https://twitter.com/jetpack/status/1093589882390433797
IHOP was quick to respond, tweeting "circle food respect circle food."
The buttermilk pancake comes already pre-syruped with a healthy dollop of butter (because of course) and four different options to dip your bite in — strawberry, blueberry, and two other flavors that are irrelevant because blueberry. The cupcake-themed Pancizza has an icing spread, whipped cream, and colorful sprinkles, perfect for the little ones in your life. The bacon-cheddar, well, has bacon and cheddar but you can't really underscore the importance of bacon on a pancake.
IHOP already celebrates National Pancake Day annually in March, but not to be outdone by pizza chains, decided to get in on the Pizza Day action by giving their customers this "never-seen-before food innovation."
If you're lucky enough to live in New York City, you'd be remiss not to check out Bleecker Street Pizza, which will be transformed into a "Pancizzeria Shop" on Saturday only. If you come between 11 a.m. and 11 p.m., you'll even get a free pancake-pizza slice.
The promotion is only going on Feb. 8th through the 10th so run, don't walk, to get one of these fabulous creations. Your belly will most definitely thank you.
This article was originally published on