Ikea's Quick-Assembling Refugee Shelter Lasts Up To 3 Years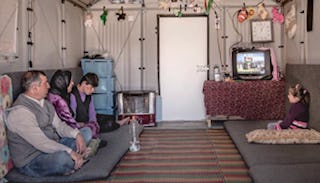 Image via Mashable
Ikea's "Better Shelter" is a safer, more comfortable home for refugees
The Swedish company known for making trendy throw pillows and inexpensive furniture is building something else: a future for refugees. The "Better Shelter", created by the Ikea Foundation in partnership with United Nations High Commissioner for Refugees (UNHCR), is made of recyclable materials and can be assembled in just a few hours, according to CNN.
Awarded the Beazley Design of the Year prize presented by the Design Museum in London, the revolutionary, flat-pack refugee shelter can fit a family of five, has thermal insulation, and is equipped with solar panels to provide light and other electricity needs. The modular homes are weatherproof and can last in moderate climates for up to three years. One of their best features (which Ikea isn't exactly known for) is their rapid and easy assembly.
This video from Mashable shows the assembly process and how comfortable these shelters are inside, compared to the shoddy, emergency tents we're so used to seeing for refugees.
"Better Shelter tackles one of the defining issues of the moment: providing shelter in an exceptional situation whether caused by violence or disaster," says Jana Scholze, an associate professor of curating contemporary design at Kingston University, in a statement.
"Providing not only a design, but secure manufacture as well as distribution makes this project relevant and even optimistic. It shows the power of design to respond to the conditions we are in and transform them."
The Better Shelter project hopes to provide safer, more dignified temporary homes for the roughly 65 million displaced people worldwide. Let that sink in; 65 million people have been forcibly displaced from their homes via disaster or violence and have no permanent home as of right now. Twenty million are children, according to UNICEF.
It's a tall order because each shelter costs UNHCR $1,150- that's twice as expensive as typical refugee tents. The agency relies heavily on voluntary donations from governments around the world (the U.S. is their top donor), but anyone can donate on their website.
As you might imagine, those working on the Better Shelter project have conflicting feelings about receiving their recent design award. Johan Karlsson, Better Shelter's interim managing director says in a statement, "We accept this award with mixed emotions – while we are pleased that this kind of design is honored, we are aware that it has been developed in response to the humanitarian needs that have arisen as the result of the refugee crisis."
If you'd like to learn more about the Better Shelter project, you can go to their website, www.BetterShelter.org. You can also donate to the project by going to www.unhcr.org. The donate button is in the upper left corner of the webpage.