Of Course IKEA Is Selling A Chocolate Easter Bunny You Have To Build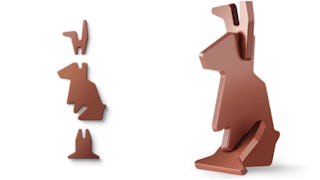 Image via IKEA
Relax, assembling and eating this bunny is much simpler than other IKEA endeavors
If you've ever bought furniture from IKEA, you know every piece comes with detailed instructions in multiple languages designed for all of us non-engineer-degreed folks. Of course, that's only if you have the patience to actually read the directions (seriously, who reads the directions). But now they've made a product even the direction-adverse can put together — a chocolate bunny.
The VÅRKÄNSLA milk chocolate bunny comes in three pieces, and it's here to bless us all right in time for Easter. It's flat, chocolate, and did we mention there are only three parts? Although by the time you've unpacked it all, they'll likely only be two-and-a-half. Whatever, it's entirely possible bunnies can hop on three-ish feet.
The three-ounce dessert (dinner) sells for under $3. And you can't order them online, so off to the store you go — just don't get lost in the Maze Of Things while looking for the bunny.
The bunny contains a minimum of 30 percent cocoa and is UTZ certified, a program and a label for sustainable farming. "Go ahead, play with your food," IKEA advertises online. "That's what this certified sustainable chocolate bunny is for. It's easily assembled, only three parts. And when you're finished playing, we bet you'll enjoy eating it, too." Challenge accepted.
Unlike assembling furniture, the bunny looks a simple task. There's really only, like, a few combinations (I'm obviously no mathematician) and if you get frustrated and can't figure it out you're in close proximity to chocolate which makes everything better.
As with most IKEA products, the bunnies are designed in a flat-pack fashion, making them easy to transport and will fit in most carry-ons, purses, or just directly in your mouth. "Once put together, the bunny can be used as Easter decoration. Or be eaten straight away," their website says.
Narrator: The bunny will never, under any circumstances, make it until Easter.
It's impossible not to love IKEA (but for their maze-like stores that divorces occur in on the daily), they actually had a pee-on magazine pregnancy test. Hello? They are geniuses. Some people think we should stop going to IKEA after a certain age, but evidently never had to furnish a kid's playroom or create a picture wall. Also, Swedish meatballs, OST BLÅMÖGEL blue cheese, and Kex biscuits. You can never be too old for a visit. Did I mention they also have onsite daycare?
This bunny would be the perfect Easter gift basket item and also you'll still be speaking to your partner, which is a 50/50 if you were putting together an actual IKEA non-chocolate item, so there's that.
Now that Valentine's Day is in the rearview mirror, it's about time we have another chocolate-filled excuse to celebrate.
This article was originally published on